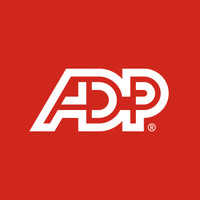 ADP
Never miss new job openings
Team
Professional experience
Years of experience
How many years of experience do ADP employees have before joining?
Where they've worked
Where did ADP employees work before joining?
Industry background
What industries did ADP employees work in previously?
Past employers' size
Which size companies did people at ADP work at previously?
Educational background
Educational background
What did employees at ADP study?
Top educational institutions
Where did employees at ADP study?
Arizona State University-Tempe
University of Central Florida
University of Phoenix-Utah
Never miss new job openings
Employee data
Time employed
How long do employees stay at ADP?
Age diversity
How does ADP rank for age diversity?
Gender diversity
How does ADP rank for gender diversity?
| | Gender diversity | Ratio |
| --- | --- | --- |
| | male | 54.8% |
| | female | 45.2% |
Top roles
What are the top roles at ADP?
Career advancement
Career advancement
How does ADP rank for career advancement?
| Years in position | Percentage who advanced |
| --- | --- |
| <1 | 20.3% |
| 1 | 25.9% |
| 2 | 18.9% |
| 3 | 12.3% |
| 4+ | 22.7% |
Future employers
What companies do ADP employees go on to work at?
Never miss new job openings
How Do I Match This Company?
Are you and
ADP
a perfect pairing? Let's explore your common touchpoints.
Summary
Company information
History
Automatic Data Processing, Inc., commonly known as ADP, is a Fortune 500 provider of human resources management - typically payroll - software and services. Career areas include Sales, Client Service, Implementation, IT, HR and CoSee more
Address
Multiple locations
Industry
Computer Systems Design Companies, Design Firms
Website
https://adp.com
Departments
What departments ADP employees work at?
| | Departments | Ratio |
| --- | --- | --- |
| | Management - Other | 27.6% |
| | other occupation | 20.1% |
| | Administrative | 10.5% |
| | Computer / IT - Other | 8.7% |
| | Sales Managers & Supervisors | 8.6% |
| | Human Resources | 7.4% |
| | Business Operations | 6.7% |
Similar companies
See what companies are similar to ADP
Never miss new job openings
How Do I Match This Company?
Are you and
ADP
a perfect pairing? Let's explore your common touchpoints.
Jobs
Never miss new job openings
How Do I Match This Company?
Are you and
ADP
a perfect pairing? Let's explore your common touchpoints.
Q&A about ADP
Want to know more about

ADP

?
Learn what others have to say about ADP or join the discussion by contributing a question or an answer.
q:
What year was ADP founded?
q:
What industry does ADP operate in?
q:
Where's ADP's HQ located?
q:
gender breakdown at ADP?
gender ratio is 45.2% female, 54.8% male.
q:
I'd like to know how much ADP makes per year.
q:
What's the name of ADP's CEO?
q:
How long do people usually work for ADP?
q:
what kind of companies did ADP employees work for?
Large companies before ADP.
q:
are my chances high for career advancement at ADP?
yes, chances of career advancement are high.
q:
Top future employers of ADP employees?
these companies Broadridge, CDK Global, Oracle, Paychex, Paylocity, TriNet, Ultimate Software, Workday
q:
Where did employees work before joining ADP?
Aerotek, Aon, AT&T, Enterprise, Insight Global, Paychex, Verizon, Wells Fargo.
q:
How old are ADP's employees in general?
q:
What were ADP's employees' top fields of study?
No higher education, Bachelor of Science, Bachelor of Arts.
q:
i wanna know what the interview process looks like
q:
I'm curious what ADP has to offer in terms of benefits?
q:
Which school(s) did you study at before starting at ADP?
q:
Can someone tell me about the vacation policy at ADP?
q:
they accept people without college degrees at ADP?
q:
How many times were you promoted at ADP if any?
q:
how many years did you spend at ADP?
q:
what can you expect salary raise wise
q:
do you need to take a drug test if you work for ADP?
Never miss new job openings
How Do I Match This Company?
Are you and
ADP
a perfect pairing? Let's explore your common touchpoints.
Reviews
Have some insight of

ADP

?
Get the scoop on what others who have experience with ADP think of working there or join the conversation by leaving a review.
Building engineer
Pleasanton, CA - March 31, 2021
Fun,supportive, helpful productive
Was filling for vacationing employee . I have productive and enjoyable time. It is worth the comradery and friend ship that I gined
---
Pros and Cons
I got free Cup mug and kids basket bal
I recomend people to work there if they can
fun enjoyed working there and a friend place to work for
I have worked for ADP in collections a long time ago. I know the rules for to work. I worked in account receivable/collections
---
Pros and Cons
free lunch medical if needed and a fun company to work for.
Problems with cronyism. If you ask for extra work it's 50/50 as to weather you will get that work. Quality was ignored on key client products, being pushed out before properly flushed out and bugs fixed. Information is siloed to the point you can't get anything fixed for the client for weeks on end. Benefits are corporate standard.
---
Pros and Cons
My immediate supervisor was great
Acct administrator
San Ramon, CA - September 21, 2021
Management tended to favor employees who had been there longer. When I moved from Customer service to Acctg, I never received a raise
---
Pros and Cons
Flex time was granted, lots of catered meals; great at recognition
When jobs came up; you weren't called for an interview: candidate previously chosen
Implementation Consultant
Germantown, MD - December 7, 2021
Too much politics and favoritism . Did an excellent job, with implementation of time and attendance, automation, settled and ckeaned 401k issues, but inside politics were too much. Environment was good but people very secretive. My opinion for a dynamic good company lacks people kindness skills
---
Pros and Cons
Excellent company, poor management
Client Support Specialist
Norfolk, VA - February 2, 2022
Worked here over a year. The work life balance is terrible. They give overload you with task and expect you to work OT to get it done.
---
Pros and Cons
No life outside of work, pay not worth the amount of work
New Orleans, LA - March 28, 2022
Worst place I have ever worked
Hard work is not valued. Promotions are strictly based on length of time with the company. They only micromanage.
Account Manager
September 14, 2022
Call center- not account management - They mislead you and work you to death
Not the role they tell you . Do not believe them. Company is good and other areas may be better, but run do not walk from here! Just a fancy call center . Mangers are from call centers.
---
Pros and Cons
So many lied about role, not account management , low pay
You will be paid well but if you have HR issues, you will be ignored. I honestly do not know what HR does at that company or why they even have it. They let some really poor managers and people stay in roles forever, treating people like garbage.
---
Pros and Cons
If you do not like your boss or treated poorly, no one will care
Never miss new job openings
Disclaimer
LENSA generates certain information provided on this website by compiling and analyzing publicly available data and data from employees/former employees. All company names are the registered trademarks of their original owners. The use of any trade name or trademark does not imply any association with the third-party company. None of the information provided is endorsed in any way by any of the companies mentioned. We do not guarantee the accuracy, currency, or suitability of this information (including regarding demographics or salary estimate) and you are responsible for how you use it. ALL INFORMATION IS PROVIDED "AS IS" AND "WITH ALL FAULTS". We are not responsible for nor endorse third party content on our website. If you notice any inaccurate information or information you think is proprietary you can email us at support@lensa.com. See our Terms and Conditions and Community Guidelines for more information.