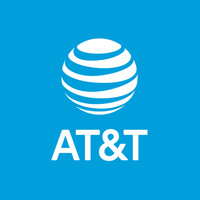 AT&T
Never miss new job openings
Team
Professional experience
Years of experience
How many years of experience do AT&T employees have before joining?
Where they've worked
Where did AT&T employees work before joining?
Industry background
What industries did AT&T employees work in previously?
Past employers' size
Which size companies did people at AT&T work at previously?
Educational background
Educational background
What did employees at AT&T study?
Top educational institutions
Where did employees at AT&T study?
Georgia Institute of Technology-Main Campus
Texas A&M University-Texarkana
University of Phoenix-Utah
Never miss new job openings
Employee data
Time employed
How long do employees stay at AT&T?
Age diversity
How does AT&T rank for age diversity?
Gender diversity
How does AT&T rank for gender diversity?
| | Gender diversity | Ratio |
| --- | --- | --- |
| | male | 70.2% |
| | female | 29.8% |
Top roles
What are the top roles at AT&T?
Career advancement
Career advancement
How does AT&T rank for career advancement?
| Years in position | Percentage who advanced |
| --- | --- |
| <1 | 11.6% |
| 1 | 26.4% |
| 2 | 19.7% |
| 3 | 11.8% |
| 4+ | 30.6% |
Future employers
What companies do AT&T employees go on to work at?
Never miss new job openings
How Do I Match This Company?
Are you and
AT&T
a perfect pairing? Let's explore your common touchpoints.
Summary
Company information
History
Headquartered in Dallas, TX, AT&T Inc. is the world's largest telecommunications company, the largest provider of mobile telephone services, and the largest provider of fixed telephone services in the United States. It is ranked #See more
Address
Multiple locations
Industry
Telecommunications Companies, Communications Equipment Manufacturers
Website
https://att.jobs
Departments
What departments AT&T employees work at?
| | Departments | Ratio |
| --- | --- | --- |
| | other occupation | 31.3% |
| | Sales Managers & Supervisors | 9.6% |
| | Management - Other | 9.6% |
| | Administrative | 9% |
| | Sales - Other | 5.8% |
| | Maintenance / Repair | 5.6% |
| | Computer / IT - Other | 5.4% |
Similar companies
See what companies are similar to AT&T
Never miss new job openings
How Do I Match This Company?
Are you and
AT&T
a perfect pairing? Let's explore your common touchpoints.
Jobs
Never miss new job openings
How Do I Match This Company?
Are you and
AT&T
a perfect pairing? Let's explore your common touchpoints.
Q&A about AT&T
Want to know more about

AT&T

?
Learn what others have to say about AT&T or join the discussion by contributing a question or an answer.
q:
What's the stock symbol of AT&T?
q:
gender breakdown at AT&T?
gender ratio is 29.8% female, 70.2% male.
q:
What industry does AT&T operate in?
q:
What is the annual revenue of AT&T?
q:
How often do employees get promoted at AT&T ?
advancement opportunities are medium
q:
How long do people usually work for AT&T?
q:
what kind of companies did AT&T employees work for?
Large companies before AT&T.
q:
Top future employers of AT&T employees?
Apple, CenturyLink, Comcast, IBM, Self Employed, Sprint, T-Mobile, Verizon.
q:
Which companies did employees work for before starting at AT&T?
Most of AT&T's employees worked for one of these companies BellSouth, Best Buy, DIRECTV, IBM, SBC Corporation, Sprint, T-Mobile, Verizon.
q:
How old are AT&T's employees in general?
q:
What were AT&T's employees' top fields of study?
No higher education, Bachelor of Science.
q:
How long did you work for AT&T?
q:
What was the size of the company you worked for before joining AT&T?
q:
Which school(s) did you study at before starting at AT&T?
q:
are you eligible for benefits straight away after being hired?
Donnie Meekins
July 10, 2021
q:
how did you get an interview at AT&T?
q:
Do entry level jobs pay well?
Donnie Meekins
July 10, 2021
q:
how can you move up in your career at AT&T?
q:
Does AT&T hire people with a criminal record?
q:
What kind of degree does AT&T want from applicants?
q:
What are the average working hours at AT&T?
Donnie Meekins
July 10, 2021
Office work basic 1 or 2shift outside 8 to what work load is done it could 8 10 12 or 15 yr day
Never miss new job openings
How Do I Match This Company?
Are you and
AT&T
a perfect pairing? Let's explore your common touchpoints.
Reviews
Have some insight of

AT&T

?
Get the scoop on what others who have experience with AT&T think of working there or join the conversation by leaving a review.
Field Technician
Tulsa, OK - May 27, 2021
One of the worst companies I've worked for.
The management is so eager to write people up that they will write you up for not having zip-ties in the right place. Yet they will turn around and tell you to break company policy and code policy, but they will try to write you up for refusing to go against code and company policy. That is a major OSHA violation. The management is garbage and the hours are beyond ridiculous. If you want a life or a family, work somewhere else. Unless you like working till 1 am to get back up and do it again at 7 am.
---
Pros and Cons
Pay and benefits are good.
Not worth the drama or terrible management
Wire Technician
Louisville, KY - June 18, 2021
Great job, loved what i did. I just was not a fan of my supervisor who was a head hunter and so i left.
---
Pros and Cons
Great pay and job security
Never a set schedule but its the nature of the beast
Nothing is greater here anymore
Start it was greater new management few year later things got bad ever year not a great place to work to have a future and family
---
Pros and Cons
Right now is the pay this later year for that
Customer service technician
Move to Georgia with or loose your completely. Hustle work environment poor training. Bad management
---
Pros and Cons
Hustle work environment favoritism and poor training
Finance/Customer Service
Commerce, CA - July 12, 2021
Inter act with various customer such as business and residential
I work for almost 30 years with AT&T. AT&T gave me a chance to grow and to learned, learning with AT&T is endless. Achieving your goal is easy for as long as you love what you are doing. I traveled within the United States as a trainer.
---
Pros and Cons
A friendly and family oriented company
The hours and schedule is great
Lexington Park, MD - July 13, 2021
Productive and incentives
I worked at At&t when it was SBC in San Antonio Tx . I started as outbound and finished as a Senior Consultant. From 1998-2008
---
Pros and Cons
This company is big and can big and room to grow
Service Representative
Cleveland, OH - July 17, 2021
Interesting place to work.
I worked for Ohio Bell, Ameritech, and AT&T through retirement. Initial position Utility Clerk, Sr. Utility Clerk, Sales Representative, Global Sales Representative.
---
Pros and Cons
Purchased insurance paid for years after retirement coverage cancelled. Life Insurance reduced.
Senior System Engineer
Dallas, TX - September 7, 2021
I started my career with SBC or Southwestern Bell Wireless, which later became Cingular. Company was great and wanted to actually help their employees, Once SBC bought ATT the culture of layoffs every 3 months began, which inspired cut throat managers. There is no career advancement any longer at that company. The employees all laugh when they say its the best company to work for, because they all know it untrue. They are still slashing benefits which all started when SBC bought ATT. Left for a brighter future, not for one to be stuck in a dead end job waiting to be laid off.
---
Pros and Cons
There was not much once ATT took over. Used to be flexible and we would get bonus, no longer.
Bilingual Operator
Orange, CA - September 9, 2021
Was employed for over 15 years, great environment, fair and balanced, great pay and benefits, would love to work there again!
---
Pros and Cons
Other employees who liked drama
Retail sales
Boulder, CO - September 10, 2021
Decent pay, but they squeeze you hard
Pay was about 50k a year with commission, which is respectable for a job without a degree. Management pressures you hard to sell things to customers that they clearly do not want or need, because the management above them is also pressuring them. I had a homeless woman come in for technical help on her old and broken cell phone and was told that I HAD to try and upsell her on streaming services. Must try and pivot to a DirecTV sale in every interaction. The coworkers and management were pretty nice, except for one of the managers, Sam, who fired a guy for giving his two week notice and told me I was on disciplinary probation even though I wasn't, and generally tried to bully me out, never really knew what she had against me. It does have a union, which is a nice bonus.
---
Pros and Cons
Good coworkers, good pay, union, benifits, mostly cool management
High pressure, no traffic no sales, one shitty manager
Retail Customer Service Associate
Cleveland, TN - November 9, 2021
It was great until it wasn't
I worked for ATT for a few years. Joined the union, new district manager was anti union, then i was let go for not getting sales although I was doing all they asked of me.
---
Pros and Cons
Pay was good and they pay towards school.
The people in this location are back stabbing snobs
Manager in internet service
Illinois City, IL - November 18, 2021
I worked 8 years I got several promotions. During review and salary raises, the company always lowered the pay scale to make it appear as if you were getting a raise but you only got a few hundred dollars. I applied for a different department and my manager refused to let me get the job.
---
Pros and Cons
The company will keep you stuck in a rut with a horrible job.
Manager/Director for Merchandise Marking for Customer Service T
Atlanta, GA - November 23, 2021
Progressive and fun workplace of supportive workstaff.
The pros of working for AT&T was the ability to take leave at any point and time, you're never looked upon as being a problem if you keep within the guidelines. The company culture is excellent as well as monthly, yearly compensation for work.
---
Pros and Cons
Friendly office, great social events at work and outside work.
None, from my experience.
Business Customer Service Representative
Evansville, IN - November 29, 2021
I excelled as adapted well in the ever changing environment. I maxed out on nearly every quality call. I resolved the Iphone voice mail issue that plague our very existence. I had even been asked to become a trainer. Then suddenly someone said a homophobic comment to me and a coworker. The coworker reported it. It went up the chain, my job was threatened and i called the ethics line. After their required investigation they terminated the homophobe nearly 3 months after the incident. I was later terminated for a minor infraction, i believe to have been retaliation for calling the ethics line.
---
Pros and Cons
If promoted, pay is great and quarterly bonuses too
Sales Representative
November 29, 2021
Sell phones, wifi, cable, and home phone
This job is shady and very dog eat dog. i had managers stealing sales from me, other employees over charging customers for products that they did even get and ended up in the employees pockets, and lying to the elderly about prices that don't ever happen. I didnt like the job because I'm a good guy and i dont like playing people
---
Pros and Cons
Lying to people to get it
Premises Technician
Pasadena, TX - December 7, 2021
Lots of hard work and constant pressure from above.
A lot of the job is supposed to be down the exact same way, however in the field sometimes the situation dictates that something different may need to be done. And to even suggest that can get you written up. So it's best to not in trouble and just do the bare minimum because going above and beyond is not rewarded and some of the management hood grudges because your union and there not so they take it out on the union guys and make work harder than it needs to be.
---
Pros and Cons
Decent pay and good benefits.
Too much pressure from the management who seem to not remember what it's like being in the field.
What it is like to work for a large corporation
The company paid well, but some individuals took advantage of others. Some managers had favorites and turned their back on others. I don't believe employees should have romantic relationships within their office; creates issues.
---
Pros and Cons
Employee rumors and favoritism