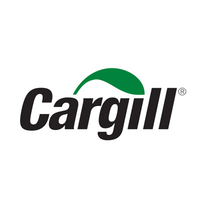 Cargill
Never miss new job openings
Team
Professional experience
Professional Growth
How many years of experience do Cargill employees have before joining?
Professional Growth
What industries did Cargill employees work in previously?
Professional Growth
Where did Cargill employees work before joining?
Educational background
Educational background
What did employees at Cargill study?
Top educational institutions
Where did employees at Cargill study?
University of Minnesota-Duluth
University of Minnesota-Twin Cities
Never miss new job openings
Employee data
Professional Growth
How long do people stay in a role at Cargill?
Culture & Values
How does Cargill rank for age & gender diversity?
Career advancement
Professional Growth
How does Cargill rank for career advancement?
Professional Growth
What companies do Cargill employees go on to work at?
Never miss new job openings
How Do I Match This Company?
Are you and
Cargill
a perfect pairing? Let's explore your common touchpoints.
Summary
Company information
History
Cargill is an international producer and marketer of food, agricultural, financial, and industrial products and services. The firm works with farmers to help customers succeed through collaboration and innovation. The company is cSee more
Address
Multiple locations
Industry
Warehousing and Storage Companies
Website
https://cargill.com
Departments
What departments Cargill employees work at?
| | Departments | Ratio |
| --- | --- | --- |
| | other occupation | 34.9% |
| | Administrative | 9.8% |
| | Management - Other | 9.1% |
| | Accounting / Finance | 8.4% |
| | Production | 8.4% |
| | Business Operations | 7.1% |
| | Engineers | 6.2% |
Similar companies
See what companies are similar to Cargill
Never miss new job openings
How Do I Match This Company?
Are you and
Cargill
a perfect pairing? Let's explore your common touchpoints.
Jobs
Never miss new job openings
How Do I Match This Company?
Are you and
Cargill
a perfect pairing? Let's explore your common touchpoints.
Q&A about Cargill
Want to know more about

Cargill

?
Learn what others have to say about Cargill or join the discussion by contributing a question or an answer.
q:
When was Cargill founded?
q:
What industry does Cargill belong to?
Transportation/Logistics.
q:
Where's Cargill's HQ located?
The HQ is at Wayzata, MN.
q:
gender breakdown at Cargill?
gender ratio is 35.8% female, 64.2% male.
q:
What's Cargill's yearly revenue?
q:
Who is the CEO of Cargill?
q:
How long do people usually work for Cargill?
q:
what kind of companies did Cargill employees work for?
Large companies before Cargill.
q:
How often do employees get promoted at Cargill ?
advancement opportunities are very high
q:
who are employees usually hired by after leaving Cargill?
3M, Ardent Mills, General Mills, JBS, Medtronic, Target, UnitedHealth Group, Wells Fargo.
q:
Where did employees work before joining Cargill?
3M, Archer Daniels Midland Company, General Mills, Iowa State University, Target, UnitedHealth Group, University of Minnesota, Wells Fargo.
q:
What's the average age at Cargill?
q:
Where did most of Cargill employees go to school?
Iowa State University, Kansas State University, University of Minnesota-Duluth, University of Minnesota-Twin Cities, University of St Thomas.
q:
how long does it take to get hired start to finish
q:
Which school(s) did you study at before starting at Cargill?
q:
thoughts on company culture at Cargill?
q:
can you fail a background check at Cargill?
q:
do they hire felons at Cargill?
q:
can I choose not to work on weekends
q:
what will they ask me at a job interview for Cargill?
q:
This one's for long-term employees: has your salary ever been raised at Cargill? How often and do they operate with substantial salary raises?
Yes you do get raises cost of living and yearly. At least I did. Also moving into better paying positions helps too. Substantial on the other hand may not be in the definition. Hope that helps
Never miss new job openings
How Do I Match This Company?
Are you and
Cargill
a perfect pairing? Let's explore your common touchpoints.
Reviews
Have some insight of

Cargill

?
Get the scoop on what others who have experience with Cargill think of working there or join the conversation by leaving a review.
Newark, CA - December 29, 2022
Definitely Alot of different personalities mixed all together in one bowl.
My experience was rather a complex one, on one hand you have management saying one thing and on the other you have employees saying another thing. But at the end of the day if they had to choose between you and them, they wouldn't hesitate to burn you 100 percent every time. Instead of coming to work to just work and mind your business you had to play the game. Which was cater to certain individuals whether it'd be management or other employees. Even if they were wrong. If you didn't pick a side and decided to be a mature adult and just carry on with your responsibilities and work. You were known as the outcast. It was just the telephone game in that company, specifically the Newark ca location. A game of my stick is bigger than your stick. You would think a company like Cargill salt that has been around for years would have a mature work environment. Most employees are in their late 40's and up. Most of them are close to retirement. They are some of the unhappiest people ever to meet.
---
Pros and Cons
Just the available overtime
More of who you know than what you know for promotion.
Beardstown, IL - October 31, 2021
The cargill company was a good place to work before the Compagny saled to JBS Compagny, I quit the jbs becasue they don't have the good rule of work like Cargill.
Plainview, TX - July 2, 2021
I Love to work at Cargill : I Love challenges of keeping the public healthy and secure and the Management team did help very well. Thanks
Carrollton, TX - June 27, 2021
Cargill help me grow as an individual and gave me an opportunity to come in a leader and a professional. I spent 17 years with their organization. I was proud to work for them.
Food Safety Quality Manager
June 8, 2021
Challenging Culture and Business Direction
There is no one global approach even for the same product category, its depend the regional leader and used what I get from outside in to Cargill. Strong authority of business leaders however the reporting line to the function therefore a lot of disruption and loosing focus.
---
Pros and Cons
A lot of inspirational business leader; big organization; Great people originally Cargill
Different focus of achievement between global Vs regional, Very basic system available
Mason City, IA - May 22, 2021
Wonderful company supervisors (some are not so wonderful)
Cargill as a company is a wonderful caring, growing, strong, amazing Company. The constant turn over in supervision is Definitely in consistent. However, for reason of constant growth to beginning and advancing makes sense.
Developed sales for a start up division and experienced a situation were we started acquiring other companies that I was acquiring business from. As part of the acquisition process I was basically demoted everytime a new acquissition was made. I very much hoped for a life time career there but eventually the acquisition of a McDonalds supplier took over and told me that he didnt want me around and I should find new employment. I relocated and left a great job for this company and was left stranded in a rural area without a job and a family to support.
---
Pros and Cons
Easy to get overlooked for hard work and dexication.
I liked most everybody i worked with there but there is a difference between "a good place to work" and "good people making the best of a bad situation". I don't want to rag on it because working weekends, production goals and "do more with less" management attitude is pretty industry standard in this area at least, but it could at least be competitive with the pay. That said, i worked in maintenance. I would never in a million years take a production job there. Working on the line or as a manager. Many may disagree but what i saw was hard work, long hours and low pay.
---
Pros and Cons
If you work there you have free access to one of the best off site clinics i've ever been to.
Low pay, mandatory over time every weekend.
Wyalusing, PA - April 6, 2021
I was a supervisor in the shipping and receiving department for 12 years and had a great crew. When I ended my career with Cargill it was due to the favoritism and seeing the people who didn't deserve to be a leader because they were the problem and reason people left, put in charge to make life at Cargill a worse place to work I had enough and was about to lose my cell because the stress was causing high blood pressure. If Cargill would open their eyes look at how things are run throughout their plants they would be able to save a lot of employees and bring the turnover down. Which leads to the work home life which you can't have because they are so short handed because of the turnover and the point system which really sucks with the COVID going on and families not having enough time to spend at home to deal with family issues. I have a great writing on what really goes on inside and what really happens which is why I no longer work for that company.
---
Pros and Cons
Everything else no home life. Harassed by supervisors at work. Any other thing you can think of
Never miss new job openings
Disclaimer
LENSA generates certain information provided on this website by compiling and analyzing publicly available data and data from employees/former employees. All company names are the registered trademarks of their original owners. The use of any trade name or trademark does not imply any association with the third-party company. None of the information provided is endorsed in any way by any of the companies mentioned. We do not guarantee the accuracy, currency, or suitability of this information (including regarding demographics or salary estimate) and you are responsible for how you use it. ALL INFORMATION IS PROVIDED "AS IS" AND "WITH ALL FAULTS". We are not responsible for nor endorse third party content on our website. If you notice any inaccurate information or information you think is proprietary you can email us at

[email protected]

. See our Terms and Conditions and Community Guidelines for more information.