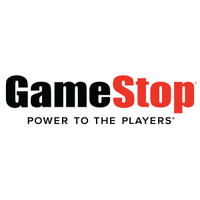 GameStop
Never miss new job openings
Team
Professional experience
Years of experience
How many years of experience do GameStop employees have before joining?
Where they've worked
Where did GameStop employees work before joining?
Industry background
What industries did GameStop employees work in previously?
Past employers' size
Which size companies did people at GameStop work at previously?
Educational background
Educational background
What did employees at GameStop study?
Top educational institutions
Where did employees at GameStop study?
Texas A&M University-Texarkana
The University of Texas at Arlington
University of North Texas
Never miss new job openings
Employee data
Time employed
How long do employees stay at GameStop?
Age diversity
How does GameStop rank for age diversity?
Gender diversity
How does GameStop rank for gender diversity?
| | Gender diversity | Ratio |
| --- | --- | --- |
| | male | 73.4% |
| | female | 26.6% |
Top roles
What are the top roles at GameStop?
Career advancement
Career advancement
How does GameStop rank for career advancement?
| Years in position | Percentage who advanced |
| --- | --- |
| <1 | 23.5% |
| 1 | 28% |
| 2 | 21.8% |
| 3 | 7.5% |
| 4+ | 19.1% |
Future employers
What companies do GameStop employees go on to work at?
Never miss new job openings
How Do I Match This Company?
Are you and
GameStop
a perfect pairing? Let's explore your common touchpoints.
Summary
Company information
History
GameStop is a Fortune 500 retailer of new and used games, hardware, entertainment software and accessories. It operates 6,700 stores in the U.S., Europe, Australia, and Canada under the brands GameStop, EB Games, and Micromania. ASee more
Address
Multiple locations
Industry
Niche Retailers, Appliance & Electronics Companies
Website
https://gamestop.com
Departments
What departments GameStop employees work at?
| | Departments | Ratio |
| --- | --- | --- |
| | Sales Managers & Supervisors | 32.2% |
| | Computer / IT - Other | 17.4% |
| | other occupation | 16.7% |
| | General and Operations Managers | 12.3% |
| | Management - Other | 6.8% |
| | Retail | 6% |
| | Administrative | 5.9% |
Similar companies
See what companies are similar to GameStop
Never miss new job openings
How Do I Match This Company?
Are you and
GameStop
a perfect pairing? Let's explore your common touchpoints.
Jobs
Never miss new job openings
How Do I Match This Company?
Are you and
GameStop
a perfect pairing? Let's explore your common touchpoints.
Q&A about GameStop
Want to know more about

GameStop

?
Learn what others have to say about GameStop or join the discussion by contributing a question or an answer.
q:
What year was GameStop founded?
q:
What's the stock symbol of GameStop?
q:
What industry does GameStop fall under?
q:
Where's GameStop's HQ located?
q:
gender breakdown at GameStop?
gender ratio is 26.6% female, 73.4% male.
q:
Anybody knows how much GameStop makes in a year?
GameStop makes $5b to $10b a year.
q:
What's the name of GameStop's CEO?
q:
How long do people usually work for GameStop?
q:
what kind of companies did GameStop employees work for?
Large companies before GameStop.
q:
How often do employees get promoted at GameStop ?
advancement opportunities are medium
q:
who are employees usually hired by after leaving GameStop?
Apple, AT&T, Best Buy, Microsoft Corporation, Self Employed, Starbucks, Target, Verizon.
q:
Where did employees work before joining GameStop?
Best Buy, Blockbuster, GameCrazy, RadioShack, Starbucks, Target, US Army, Walmart.
q:
How old are GameStop's employees in general?
q:
Where did most of GameStop employees go to school?
Full Sail University, Tarrant County College, Texas A&M University-Texarkana, The University of Texas at Arlington, University of North Texas.
q:
Did you leave GameStop on good terms?
q:
do they hire felons at GameStop?
q:
will I be excluded from the hiring pool if I don't have a bachelor's degree?
q:
how long does it take for the background check to be done?
q:
what will they ask me at a job interview for GameStop?
q:
Do you get paid on a weekly or biweekly basis?
q:
Where did you study before joining GameStop?
q:
how old do you have to be to work at GameStop?
q:
what benefits does GameStop offer?
q:
Can someone tell me about the vacation policy at GameStop?
Never miss new job openings
How Do I Match This Company?
Are you and
GameStop
a perfect pairing? Let's explore your common touchpoints.
Reviews
Have some insight of

GameStop

?
Get the scoop on what others who have experience with GameStop think of working there or join the conversation by leaving a review.
General store associate
Owings Mills, MD - March 18, 2021
When I applied for GameStop I was unaware what I was getting myself into. I had only worked there for about a month or so, it was only during the summer. Most of my time there was training on new games coming out. I barely got to interact with customers. There was never a schedule. I was just told to come in a day in advance. Because of this, my pay was nothing to smile at. It was low. Really low. One day they just stopped asking me to come in. They never formally fired me so I couldn't request unemployment. I ended up finding a newer job.
---
Pros and Cons
Experience in customer service
Game Advisor
Denton, TX - January 28, 2022
Passed around from store to store for 3 years. Trained other employees, worked events, was told I would be a good candidate for keyholder but I had a genetic disease that my manager said MIGHT keep me from coming in to open the store one day, so I couldn't get promoted. Even with the discussion that getting a promotion would let me afford insurance to get preventative medications, I was still denied. Got traded to another store, where I worked through Black Friday weekend with only 6 hours of rest, then got fired over Facebook Messenger.
---
Pros and Cons
product discounts, free game rentals
Store Manager
Warner Robins, GA - March 30, 2022
It depends on the store leader you work for and the culture they create and what demands the company is sending down. The work family I built is amazing. What made it awful are the extreme expectations sent down by the company. Lack of payroll hours. No company wide training for employees to learn to actually do the job. It is very much a trial by fire environment. Little to no work life balance. All mgmt positions require you to have open availability. As a store manager you are required to close at least two days a week, work Friday and Saturday, work one Sunday a month minimum. Attend after hours inventories, midnight and late night events. As a store leader your week is 44 hours- with start and stop times that fall outside of many daycare centers hours by the time you clock out and drive there. The shifts required make it extremely hard to have family life balance- this job best suited for those who don't have younger children or have a partner with a 7-3 type job.
---
Pros and Cons
Co-workers, can check out free games, small employee discount loop
Lack of hours, lack of training time, non competitive pay/ low pay
Guest associate
Rocky Point, NY - May 2, 2022
Drama filled, unorganized workplace
I was NEVER fully trained, I was given tips and was expected to know things I was never taught. I had access to the cash drawer key as a guest associate because no one could keep track of where it was. I was completing tasks given to SGA's on top of my own tasks, and then watched the SGA check off those tasks as if they did them. I had an SGA make very very unprofessional comments. Everyone was always talking about someone else, manager about the SGA's, and visa versa. SGA's we're mostly on their phones, and considered training just having Guest Associates complete all of the SGA's responsibilities. Just a complete and utter mess. I was hired the same day as a ps5 event and was put outside with no training to control the line outside and inform them on deals I knew nothing about.
---
Pros and Cons
Free lunch occasionally. VERY occasionally.
Drama. Unprofessional statements being made, being touched unprofessionally.
Customer service
June 20, 2022
Fun place to work, while providing support to fellow video game enthusiasts
Originally worked for GameStop through an electric company, however I had to make a transition due to finances and their associated requirements. Not too bad of a company to work for. Initially there was a misunderstanding between ethnicities due to whatever reason, I think it was just ignorance, but the feeling of being able to provide help to people in need is a feeling like no other! To be honest, after a while it started to feel like the company really didn't genuinely care about the customers, and it was all just for the profit. I started to come to grips with the fact that no matter how much a customer service rep tried to go the extra mile and make sure some type of justice got served, it wasn't given the same degree of authentic concern by higher ups. It began to bring the mind politicians, and how they operate just to win the numbers game, and once they win it, that's all they really care about. However, I now understand that's how business is unfortunately.
---
Pros and Cons
Nice cafe with delicious food, game station where employees can play video games during lunch/break
Raises aren't that much, I guess at least not initially anyway
Systems Analyst - LVL2 Store Support
Grapevine, TX - November 20, 2022
Terrible Compensation and Work Enviornment
I put in 14 years with Gamestop, was let go in July of 2007, the reason they gave me was that my position was abolished, but I saw my position posted on several job boards. I believe I was let go because I was the highest paid person in my position, and I had 14 years of seniority.
---
Pros and Cons
It was close to my home, so travel was minimal
Terrible compensation package. We did not get a raise for the last 3 years of my employment
Always over working but also cutting hours. Nothing was ever to their standards. They switched store set up constantly, despite push back.
---
Pros and Cons
Work life balance bc no hours
Awful pay, no benefits, awful company
Assistant Manager
January 21, 2023
Fifteen years and no recognition
I've been with this company for fifteen years and have worked my way up to management and I would not waste any more of my time. Between militray moves and trying to find a good work/life balance was very difficult with this company, and on top of that towards the end after dealing with trauma I have never been more disappointed in higher management in taking care of their employees. If your looking for a job that takes up all your time and energy just to get you no where then by all means get paid that minimum wage. If your looking to grow in this company it may very well be short lived.
---
Pros and Cons
Employee discount, game knowledge
Management and lack of work/life balance
Never miss new job openings
Disclaimer
LENSA generates certain information provided on this website by compiling and analyzing publicly available data and data from employees/former employees. All company names are the registered trademarks of their original owners. The use of any trade name or trademark does not imply any association with the third-party company. None of the information provided is endorsed in any way by any of the companies mentioned. We do not guarantee the accuracy, currency, or suitability of this information (including regarding demographics or salary estimate) and you are responsible for how you use it. ALL INFORMATION IS PROVIDED "AS IS" AND "WITH ALL FAULTS". We are not responsible for nor endorse third party content on our website. If you notice any inaccurate information or information you think is proprietary you can email us at support@lensa.com. See our Terms and Conditions and Community Guidelines for more information.