Amidst the COVID-19 outbreak, governments are urging people to work from home to stop the spread of the virus. These unprecedented times are altering the way we work and the way we compete for work. The concept of social distancing is taking over.
Recruitment and onboarding are undergoing radical changes. The digital transformation of recruiting is not a new trend, an OfficeTeam survey suggests that around 63% of employers use video interviewing. Digital hiring helps not only save enormous amounts of time, cost and resources but improve the quality of hire. Now, when the practice of avoiding close contact with others is sweeping the globe, experts forecast that a vast number of businesses will conduct video interviews. There are companies that already outline the current changes in the hiring process on their career pages.
If you are seeking a job in these times, when people are not in their offices, odds are that your next interview will be a video session. In case you land your desired interview, employers will seek to assess how you communicate online. Ultimately, your digital skills will become the main selection criteria.
In this post we will provide 6 easy tips on how to ace your video interview and land your future job.
There are two main types of video interviews: pre-recorded and live.
In the pre-recorded interview, you record your answers to questions in your own time. You receive a link to a webpage where you should upload your responses. A potential difficulty lies in not having direct contact with your interviewers. Questions are standard ones, such as why you want to work for the company or why you are the best candidate. Brace yourself to answer behavioral questions too, when you need to share examples of situations in which you used certain skills. 
Some companies might challenge you to introduce yourself in a video shot for 5-10 minutes and to upload it to the requested platform. This recording summarizes your main achievements and the most important roles. You should highlight your expertise and skills that prove you are the best fit for the position.
A live video interview is a real-time interview. It is an effective alternative to the in-person interview. The difference is that recruiters send you a link or call you. Companies use video-conferencing tools like Skype, Google Hangout, Zoom, or WebEx. Likewise, they might also operate systems that combine a video platform with a candidate screening tool, such as HireVue or Spark Hire.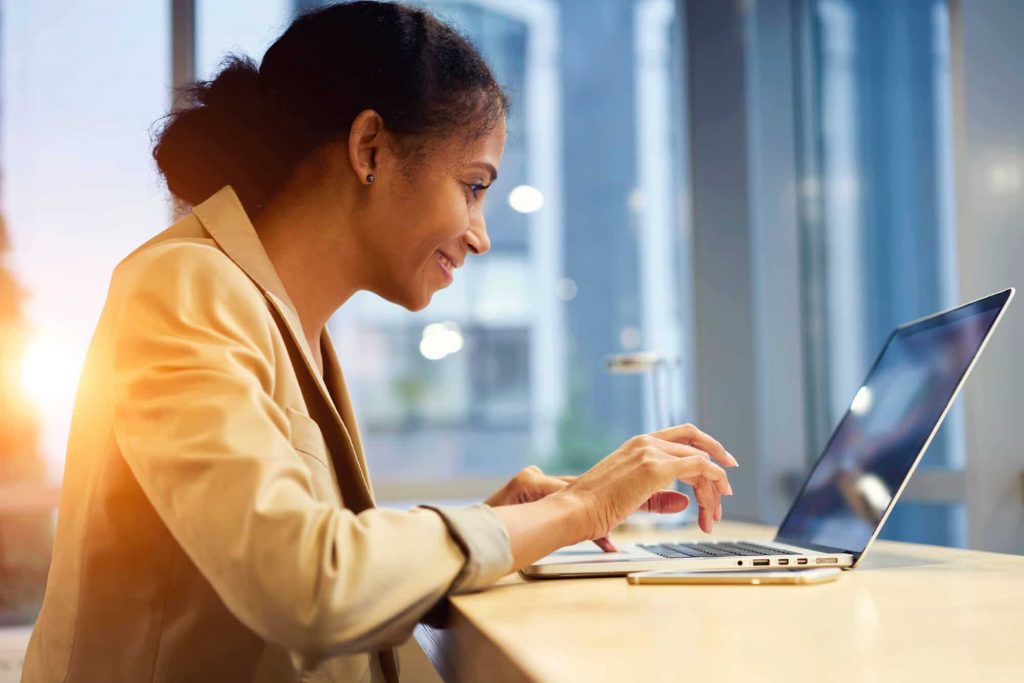 As online interviewing is becoming commonplace, it is now time to feel at ease with it. In case you have never taken part in it, be ready to introduce yourself via a video platform. If you are uncomfortable or insecure, read on to equip yourself with 6 practical tips and techniques.
Tip #1: Set up your technology tools
Test your technical equipment before the interview. Check that everything works before you log in and start. Glitches can happen, so ask for a phone number from your interviewers to be on the safe side. In case your technology goes haywire, you can call them back on the phone.
Equipment
You will need a PC, a laptop, a smartphone or a tablet. Built-in cameras and microphones give you peace of mind that you need not connect with a separate webcam or microphone. Be careful that your hands are not shaking when you hold your smartphone or tablet!
The platform, connection, and speed
Check your WIFI or mobile internet signals, then test your connection and speed. Familiarize yourself with the video platform you have to use.
Camera, lighting
Test that your camera is working and positioned at eye level. Otherwise, you might look less professional. If you do not have an adjustable stand, use a pile of books. Find an angle with good lighting. Natural light coming from the window is the best to use. Make sure you are properly lit and test that your face is centered and visible. If you wear glasses, adjust the lighting in the room to reduce glare from the lenses. It is advisable to wear eye lenses.
Remember that recruiters will read your facial expressions. Throughout the entire interview, maintain eye contact by looking right into the camera instead of at the screen. Keep good posture, sitting with your back straight and feet on the ground.
Sound
Be certain that your sound equipment functions. Speak close to the microphone and use a headset to avoid disruptive echoes or reverb. This way you ensure that you hear and you are also audible to the interviewers. In case you use wireless headphones, charge them in advance. Mute yourself when you do not speak to avoid surrounding sounds. Do not forget to unmute when it is your turn to answer!
Tip #2: Choose the location for the video interview
Make sure that your background and environment are well-suited to the occasion. Many web cameras have wider angles than you think. Thus, there might be more in view than you would wish to present! Be safe that your environment is not untidy and shows nothing that is not appropriate for a job interview. You need to find a quiet, clean and clutter-free space. Beware of distractions such as kids laughing, dogs barking, your phone ringing, or a coffee machine working. Some platforms offer the option to set up a virtual background. This helps exclude distracting elements. Close other irrelevant applications on your screen and mute your alerts that might go off during the meeting.
Tip #3: Dress for the occasion
Dress professionally as you would for an in-person interview. Choose neutral colors instead of wearing bright or flashy. Be careful that you do not blend into the background in front of which you are sitting. Do not assume you will only be visible from the waist up. For this reason, wear appropriate pants or a skirt in case you need to stand up. Needless to say, shave and brush your hair. Find out whether the company dress code is casual or formal. Dressing one notch above expectations is always a safe choice.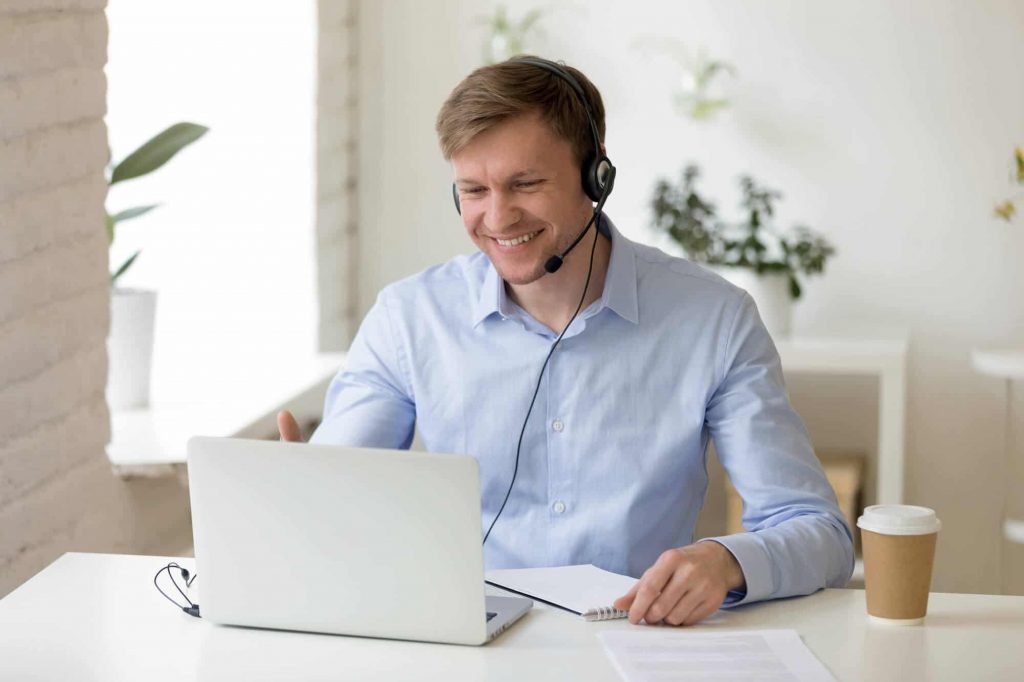 Tip #4: Engage your audience
Your personal communication comprises three separate elements: words, tone of voice and body language. All these elements impact your overall message, so use them appropriately. Be aware that employers will scrutinize your communication skills. The video interview is a perfect platform to showcase them!
First, your voice is decisive to create audience engagement. Do not be monotone, try to change pace and energy levels. Be loud enough and articulate.
Second, speak dynamically and adopt a conversational tone. Do not talk uninterrupted for 5-10 minutes, otherwise, your audience might lose focus. Pause for a few seconds after about three sentences.
Third, stay focused and treat the entire session as a face-to-face meeting. Sustain engagement by actively listening, smiling and nodding. Smiling conveys the message you are self-confident, balanced and energetic.
Finally, try to be relaxed and control your movements.
Tip #5: Pave the way for success
Prepare as for a traditional interview. Read up on the company and your future role. Have your answers ready for the typical interview questions. Be willing to ask your own questions. Try your outfit before the live session. Print out your resume and job description and set aside a glass of water and a pen just in case. If you need to download an app, do so in advance. Most importantly, log in 10 minutes early so you are calm and focused when the interview begins.
Thank the recruiters for the opportunity and their time. You may craft a follow-up email after the interview. In this thank-you-note, you can reinforce your interest and underline why you would be a great match for the role. Make your email simple, easy-to-read and captivating.
Bonus tip: Use a checklist
Arm yourself with this comprehensive checklist to apply our handy tips in practice.
Conclusion: Video Interviews are Still Interviews
It is vital to realize that the process, questions, and aims of the video interview remain the same as of the in-person interview. Keep in mind that digital occasions are also interactive. In case you are skillful enough, you can build a connection with the interviewers.
Practice in advance so you become comfortable with how to present yourself online. You can record yourself and role play, thereby getting used to watching your face on the screen. If you control the technical and non-verbal factors, you have a high chance that the recruiters will focus on your personality and expertise.
In summary, be well-prepared, serious and professional. By training yourself and setting the right mindset, you can shine just like in a traditional interview.