Careers in Beauty: 9 Exciting Jobs in the Makeup Industry
Don't feel like reading? Listen here!
Today, one of the most thriving industries with clear signs of continued growth is the makeup sector. In revenue, the makeup industry made about 49.2 million in the U.S in 2019. As such, if you have a degree or license in this sector, you can be sure of multiple opportunities. Let's now explore some exciting jobs in the makeup industry you could consider:
1. Dermatologist
It's estimated that dermatologist careers will grow by about 11.4% by 2026, which will require about 43,400 skincare specialists. As a dermatologist, you should have critical skills in beautifying as well as cleansing a client's face and body to enhance their appearance. Additionally, you must have adequate training on how to evaluate skin conditions and appearance.
You should help identify any skin problems and recommend appropriate products or treatments. Further, you can develop a daily skincare routine for your client after a thorough assessment of their skin health.
2. Eyelash Technician
If you have a passion for eyelash extensions, an eyelash technitian position can fit you perfectly. Many clients are increasingly opting for eyelashes to create a more dramatic look. Others see them as an alternative to eye makeup since they can last longer. Still, a majority of women love the look of thick and long eyelashes.
The technique of applying high-end lashes requires training which may take you a short period. Depending on your state, the law may require little or no regulation. You can get lots of clients who want to consult you about the color and style of eyelashes that best suit their facial appearance.
3. Beauty PR Specialist
Nowadays, PR specialists have also found their way into the beauty industry. As a beauty PR specialist, your services will be in high demand from the various cosmetic companies as they seek to test a particular product. The aim is to review an item as a way of promoting or marketing.
It helps to draw attention among makeup gurus as well as celebrities, making it more popular on the internet. Therefore, the demand for beauty PR specialists should continually increase as they directly impact sales margins.
4. Nail Technician
If you become a nail technician, clients will depend on your nail care services such as pedicure, manicure, or apply artificial nails. The position requires a good understanding of hygiene as well as attention to detail. Additionally, you need to work well with different people and know all the latest nail trends. 
Many clients who will require your services may be busy corporate leaders who will consult you on the trendy nail applications. This way, you will build businesses, touch lives, and be proud of your career. The U.S. Bureau of Labor Statistics estimates that pedicurist and manicurist job opportunities will grow by 19%.
5. Hairstylist
The search for an excellent hairstyle, hair color, as well as a good haircut is never-ending. Consequently, clients are always looking out for a good hairstylist who can perform various tasks from spa, coloring, cutting, styling, and smoothing. If this interests you, you can start by taking up a career to learn the basics.
With time, you can upgrade to join advanced courses to equip yourself with better techniques in hair treatments, cuts, and more. You will also need to keep yourself updated with hair trends. 
6. Special Effects Makeup Artist
Mystical beings, aliens, monsters, and magical creatures come to life in films thanks to the work of special effects makeup artists. If you love to create such mysterious and mythical fictions in movies, it might be your perfect career path.
You will mostly work behind the scenes with producers and production designers to modify various actors' appearance. You can also apply makeup on private clients to help conceal their imperfections.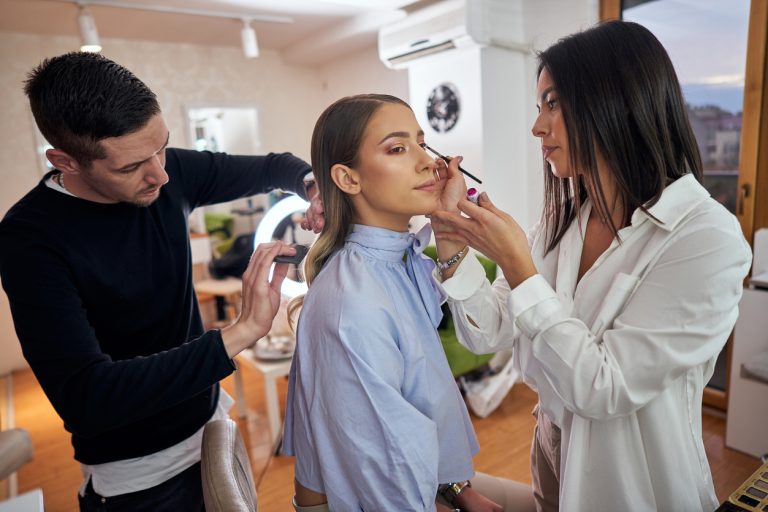 7. Laser Hair Removal Technician
If you enjoy working with your hands as well as interacting with people, you can consider a laser hair removal career. As a laser technician, you will use your skills to provide facial treatments and other laser and light therapies to enhance a client's physical appearance. You will also need to be highly hygienic and professional since you will offer services such as:
Skin analysis, rejuvenation, and care
Photo facials
Product applications
Recently, many clients opt for laser hair removal instead of shaving or waxing.
8. Image Consultant/Stylist
Image consultants
ensure that their clients have an excellent professional image. They coach them for the right wardrobe style they want to project or go on a shopping expedition to improve their appearance. As a stylist, you will also give your client makeup advice and recommend the hairstyle that boosts self-confidence.
Your services will be on-demand from those in the media spotlight to help them act and look their best. Corporate clients can also hire your services to enable them to boost their customer relations. It has a satisfying effect since you help people advance in their careers while also getting more job opportunities in the makeup industry. Still, you can offer your services on a part-time basis at low costs while working from home. 
9. Makeup Jobs in the Film Industry
In any film-making process, makeup and hair professionals are vital cogs in the wheel. Actors rely on their expertise to ensure that they look good and fit in different characters. Additionally, they assist directors in telling stories about different characters. 
Depending on your experience level, you can be an assistant or trainee where you have the opportunity to observe as well as learn from others. Within two years, you should be a senior artist who develops hairstyles and makeup to meet certain production requirements.
In a nutshell, the sun is still shining brightly on those seeking to pursue a career in the makeup industry. The sector is certainly on the up as more people see it fit to invest in their looks. Finally, besides the jobs discussed above, you can also start and grow your own business.