If you find yourself wondering how to have a career with purpose, you're not alone. A recent report from Gallup and Bates College indicates that 95 percent of surveyed adults feel that a sense of purpose is important in their careers. Yet only 40 percent of those surveyed reported finding a meaningful career.
The good news is that it's never too late to take charge of your destiny and shape your career more purposefully. In his commencement speech at Howard University, Chadwick Boseman made a powerful case for purpose, encouraging graduates to, "find purpose rather than a job or a career."
Whether you're fresh out of college and seeking a meaningful career or a seasoned veteran in search of a more rewarding path in life, listening to the Chadwick Boseman purpose speech can provide the inspiration you need to redefine your future. Below is a look at some steps you can take to transform your career path and live a more fulfilling life.
How Did Chadwick Boseman's Career Evolve?
Chadwick Boseman's fulfilling career was a direct result of the choices he made along the way. Even during his formative years as a student at Howard University, Boseman was making decisions that would shape his future. For instance, he took the initiative to apply to the highly renowned summer British American Drama Academy in Oxford, England, where he met some of his greatest career mentors.
After graduating from college with a Bachelor of Fine Arts in directing, Boseman prospered as a stage actor, director, and writer. He dabbled in TV acting, appearing as a guest star on CSI:NY and Third Watch before landing the role of Nathaniel Ray on Lincoln Heights. These career moves primed him for success on the big screen in his roles as Jackie Robinson in 42 and the iconic Black Panther.
Boseman encountered plenty of prejudice and racial stereotyping along the way to his early career successes. To judge from his commencement speech, these did not detract from his sense of purpose. Rather, they heightened his resolve to succeed on his own terms.
Chadwick Boseman's career path continued even as he battled the colon cancer that eventually led to his death in 2020. For example, his passion for learning and inspiring others were evident in the commencement speech he delivered in 2018. Boseman also continued filming multiple movies, even as his physical health was declining.
What Steps Can You Take to Design a Career Based on Your Sense of Purpose?
Bos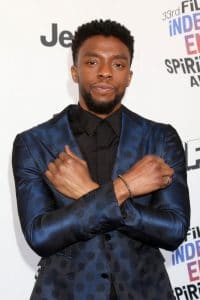 eman showed all of us that it's possible to craft a fulfilling career path through our choices. But it's up to you to take action. Once you make a commitment to focus on your purpose in life, it's time to map out a plan to help you achieve your career goals as they relate to your passions. Here are some specific steps you can take to help you design a career base
d on your sense of purpose.  
Step One: Learn How a Purpose-driven Career Differs from a Job-driven Career
"Purpose crosses disciplines. Purpose is an essential element of you. It is the reason that you're on the planet at this particular time in history."      – Chadwick Boseman 
Before diving into the active steps you can take to redefine your future, it's helpful to understand what a career with a purpose looks like. More importantly, it's important to realize how a purpose-driven career differs from a job-driven career. Here is a look at some key differences between these two career types:
A career with a purpose is not restricted. For example, a job-driven career as a house painter would be limited to jobs painting homes or apartments. But a purpose-driven career as a painter may involve painting homes, murals, portraits, and special projects that are personally fulfilling.
You feel happiness and fulfillment in a purpose-driven career. While there might be times when you feel overwhelmed, you don't feel trapped or miserable. You eagerly anticipate what you aim to accomplish every day.
Working doesn't feel like a burden as it can in a job-driven career. While in a purpose-driven career, you look forward to diving into what lies ahead each day. A job-driven career, on the other hand, is often marred by feelings of dread and days when you want to avoid your job altogether.
Making money becomes easier while in a purpose-driven career. It's easier to earn extra money when you are passionate about what you do every day. You are more apt to find yourself working more because you genuinely love what you do every day. And those additional hours often translate to a more comfortable financial position.
Step Two: Find a Trusted Mentor or Teacher to Guide You
"Boseman took extra acting classes to help improve his directing. One of his teachers was Phylicia Rashad, a.k.a. Clair Huxtable from The Cosby Show. She became his mentor. "She would do a play in D.C. and you'd go see it, and she'd drive you home and talk to you," he says. " 'How you eating? You look too skinny. You need a pork chop.'" – Josh Eells, Rolling Stone 
A mentor can provide invaluable guidance as you search for a fulfilling job. They can share real-world experience, educate you, and help keep your confidence high as you develop your purpose. One of Boseman's mentors was actress Phylicia Rashad. In addition to helping Boseman become a better director, she made sure that he remained healthy so he could focus on his passion.
Ideally, your mentor will be an experienced, battle-tested person with a proven track record of success in the same field you aspire to enter. Most importantly, they should share your passions and be willing to openly share their thoughts and experiences with you. Here are some specific ways your mentor can guide you as you forge your career path:
Help you stay focused on finding a purpose-driven career
Provide encouragement as you face career-related challenges
Serve as a sounding board for your ideas 
Deliver support when you need it most
Step Three: Launch an Intelligent Career Search
"Your very existence is wrapped up in the things you need to fulfill. Whatever you choose for a career path, remember the struggles along the way are only meant to shape you for your purpose." – Chadwick Boseman 
The path to a rewarding career begins with an organized job search. But where do you start? And how do you make the best use of your time? If you have never launched a career search, or if the prospect of searching for a fulfilling job seems overwhelming to you, then start with the simple suggestions below:
Step Four: Seek a Career That Allows You to Maintain a Balanced Life
"From Marshall to Da 5 Bloods, August Wilson's Ma Rainey's Black Bottom and several more — all were filmed during and between countless surgeries and chemotherapy. It was the honor of his career to bring King T'Challa to life in Black Panther. He died in his home, with his wife and family by his side." – The Family of Chadwick Boseman
Chadwick Boseman's career choices enabled him to remain close to his family and those he loved the most. His career allowed him to continue to pursue his passions in spite of the health challenges he experienced. He continued filming and delivering motivational speeches even in the midst of aggressive chemotherapy. He never lost sight of the need to live a balanced life, and when his life came to a close, he was together with his family.
Step Five: Move Forward Fearlessly
 "Fearlessness means taking the first step, even if you don't know where it will take you. It means being driven by a higher purpose, rather than by applause. It means knowing that you reveal your character when you stand apart more than when you stand with the crowd." – Chadwick Boseman
Finding your purpose is not always easy. And if you are accustomed to the same predictable 9 to 5 job routine every day, it can be downright scary to switch gears. But you have to remove yourself from your daily grind and be willing to take the first step toward a more rewarding existence.
If you find yourself second-guessing your hopes and dreams, reach out to your mentors for support. Most importantly, remind yourself of the factors that motivated you to find your purpose in the first place.
What is the Key to Pursuing a Purpose-driven Career?
By following the five steps above, you can put yourself on track to creating a purpose-driven career. But if you are looking for a great way to launch your search today, then use a proven job search platform that will help you find the job that is the perfect match for your purpose. 
We invite you to reach out to us at Lensa.com to discover why purpose-minded job seekers across America turn to us for professional guidance as they embark upon a new career path. With over 20 years of experience in the career development industry, we have the latest cutting-edge tools and resources to help you land your dream job. We look forward to helping you take the first step on your path toward a purpose-driven career!