Cover Letter Skills That'll Get Top Companies To Notice You
Skills are what distinguishes you from myriads of other job seekers. What do you have to offer a company that they don't already have? What is the market demand for the skills you're bringing to the table? Are you a great team player? Do you have excellent communication skills? Can you adapt to a new environment fast? It all matters.
And the place where you'll brag about all of that is your cover letter.
Despite what you may have heard online, cover letters are not just a formality. They are a necessity. And one that you can use to your advantage.
Staking out on your own in any job market is a never-ending struggle. That's why it's so important to compose a compelling cover letter that stands out in a sea of others. Most employers will be particularly interested in one part—the one where you mention your skills and qualifications.
Are you struggling trying to incorporate cover letter skills into your document?
In this article, you'll learn what skills to put on a cover letter and how to spice up a generic cover letter with transferable skills.
Getting Started With Your Cover Letter—Get the Basics Right
What's a cover letter, and how important is it in today's hiring scene? Well, more than you might imagine.
A cover letter is an important document that you can use to emphasize the abilities and experiences that make you the right person for the job you're applying for. How do you do that? By adding the right skills to your cover letter.
Why do you even need a cover letter if you're only restating your resume? Here's the catch—that's exactly what you shouldn't be doing. Don't paraphrase your resume, but expand and elaborate on it.
An ATS might not notice if your resume and cover letter look too much alike—but human recruiters will. They will take this as a sign of laziness, which is never a good first impression.
A cover letter can make or break your application depending on how well you can sell your previous work experience, education, and role-specific abilities.
Creating Your Cover Letter Skills List—Here Is What To Bear in Mind
You could be tempted to go all-out and list every major and minor skill in your arsenal. Don't do that. When applying with most companies, this move is as counterproductive as stating how well you can knit for a web development gig!
Most employers won't have any interest in irrelevant details and miscellaneous accomplishments. This is why you need to keep an eye out for the specific job requirements and tailor your cover letter skills list accordingly.
Here's what you should consider:
Are you already experienced in the role that a company is looking to fill? If not, are you willing to learn at an accelerated pace?
Do you have any sought-after abilities that will distinguish you from other applicants?
How Much Work Experience Do You Have?
Are you a seasoned veteran? Or do you have little to no experience but are willing to acquire new knowledge? You should consider these factors before applying as they will determine your best course of action.
If you possess considerable expertise, mention it—this will increase your odds tremendously if you're looking to get hired for a senior position. But don't overstate how good you are. Nobody likes a braggart. Instead, describe how you acquired that experience and what value it can carry over to their business.
Do you have little experience (or not enough for the job you want)? You might still get the job if you display sufficient enthusiasm for the role.
In this case, it's better to focus on your soft skills. Be persuasive and convince the recruiter that your sheer determination and work ethic can benefit their company in the long run—implicitly if they choose to invest some time into your training. A serious company will recognize an ambitious candidate with the will to succeed, despite their lack of prior experience.
What Are the Skills That Distinguish You in Particular?
Consider what skills could make you a unique asset to a company.
Everyone has some knowledge of MS Office tools, for example. That doesn't mean you should not mention these common abilities. Just don't focus on them too much. Make it a priority that your not-so-common skills stand out in your cover letter.
If you're a writer, for example, don't go on about how well you can write in general. Focus on the particulars. If you're knowledgeable in a specific niche, put that knowledge in the spotlight. If you have some SEO knowledge, even better. Point it out.
Companies value experts, so it's important to capitalize on your key assets. Ultimately, the skills that distinguish you—even if they're not crucial for the role—could be the ones that capture a recruiter's attention.
Figuring Out Different Skills for a Cover Letter—Soft, Hard, or Both?
Source: Marcus Aurelius
Asking what skills for a cover letter to choose is heavily dependent on the job you're after. Roles vary drastically—even the same role can have different specifications in different companies.
In general, hard skills are usually the main factor companies will consider when assessing your portfolio. Soft skills are always an added bonus. They are the ones that will potentially keep you hired if you get the job!
You shouldn't disregard one in favor of the other, but keep in mind that hard skills are going to be your bread-and-butter at the end of the day.
Check out this table of the most common—and most useful—soft and hard skills that candidates frequently include:
Hard Skills:
Soft Skills:
Language proficiency (grammar, spelling, etc.)
Knowledge of MS Office tools
Understanding of coding languages (Java and Python, for example)
SEO optimization
Marketing abilities
Project management skills
Software development expertise
Mechanical skills, such as operating a crane or another heavy vehicle
Time management
Excellent communication skills
High motivation
Adaptability
Reliability
Strong work ethic
A keen eye for details
Good team player
Methodical thinking
Transferring Cover Letter Skills From One Profession to Another
Source: Kindle Media
No matter what job you're fighting tooth and nail to get, you'll rarely find yourself starting from scratch. Even if you're writing an entry-level cover letter, you can still include various transferable skills—both soft and hard—that you've acquired either through education or part-time work.
For starters, most soft skills are easily transferable. After all, what company doesn't value cooperation, teamwork, and the ability to meet tight deadlines? These are all important qualities, but it's unwise to make them stick out like a sore thumb. Instead, you should strive to incorporate them seamlessly as a logical extension of work experience or education.
Hard skills are a different matter altogether. Some are tightly grouped together, such as:
Knowledge of different writing formats (AP, APA, MLA)
Excellent writing capabilities
Article formatting
For example, a qualified editor can easily carry their editing skills into a writing role. The opposite is not always possible—a top-skilled writer may not know even the first step in the editing process. That doesn't automatically lead to a sharp divide between useless and useful skills—it's just that some are more usable than others.
If you're creative enough, there are thousands of ways you can extrapolate one skill set from another. If you've worked in retail, you—whether you know it or not—probably have some marketing skills you can capitalize on. Worked as a dispatcher for a limo rental company? You'll probably fit right in as a truck dispatcher!
In essence, many roles intersect since they require similar skills—this crucial fact alone can provide you with the means to spice up an otherwise bland or generic cover letter.
Placing the Skills Section—Create the Cover Letter Skills Paragraph
The main paragraph is the part of the cover letter where you'll have your chance to shine. This is where you will elaborate on your skills and qualifications.
To get the attention of recruiters, be as concise and unambiguous as possible. List out the skills you possess, how you have used them thus far, and how smoothly you can incorporate them in your new workplace.
It's unnecessary to start from the beginning of your career, and you should omit skills or experiences that are irrelevant for the job. Instead, you should focus on the skills that will bring value to the company. Grab onto them and persuasively explain how much of a difference they can make for an employer's business!
A good piece of advice is not to be too exhaustive—there's no need to state every single project you've worked on, even if it is related to the role. This doesn't mean you shouldn't mention notable accomplishments and achievements that will pique a company's interest. It means merely that you shouldn't brag about them too loudly—or else you may tarnish an otherwise good image.
Aiming for That Perfect Job—Optimize Your Letter
Constantly applying for a bunch of jobs is frustrating, so finding that perfect cover letter template can be a real life-saver. But you should also invest additional time into customizing it to fit a certain job description. This will make it more ATS-friendly. Not only that, but human recruiters too will notice the specifics that pertain only to their company.
Sending a generic cover letter in droves might seem tempting when you consider the sheer number of ads you'll be applying for. It might be practical, but then recruiters will notice how bland it looks. Besides, they know when they've seen something a hundred times over.
A better approach is to start with a simple cover letter sample, which you can afterward modify according to the job requirements of the company you've chosen to apply with. Include only those skills that are relevant for the position and be descriptive:
State how these skills have helped improve your performance in a given role
Explain how you have used them in specific instances
Impress potential employers by exemplifying the very qualities you are describing in your cover letter
Should You Research a Company Prior to Applying?
It isn't really necessary or advisable to perform in-depth research about the company before applying. This is an obsolete job hunting method, and there's very little benefit to it.
But some organizations host sporting events, for example. You may mention this if you feel it'll impress them, though this also goes for any significant part of their company culture.
If you've heard about something truly praiseworthy about the company, don't state it outright by saying I like how inclusive you are. Instead, tie these praises into the cover letter logically. This will make them feel more appreciated and not like you're just trying to take advantage of them.
Avoiding Cover-Letter Skills Mistakes—Get It Right the First Time
Source: nappy
There are several missteps to avoid when listing out your skills. Be professional and formal—slang and substandard language just won't do. They will only make serious recruiters dismiss your cover letter sooner.
The wording is more important than you might think, and the way you state your skills is sometimes as crucial as the skills themselves. Even if you've got the cover letter format right, a recruiter might reject your cover letter if its wording is off.
For comparison, here's a table of how you should and how you shouldn't word your skill list:
| | |
| --- | --- |
| Don't | Do |
| I've got good writing skills | I have considerable experience in composing articles of various lengths and for diverse audiences |
| I'm good at copywriting | I am proficient at composing engaging SEO-friendly copy that consistently gets high rankings |
| I can market your goods for some dough | My three-year experience in soliciting and selling products for a retail company has taught me three crucial marketing skills… |
| I possess excellent dispatch abilities | I possess a full year of experience working for a high-profile dispatch company, in addition to being proficient in various dispatch software, including FieldPoint and Synchroteam |
| I can write code in Java and Python | I am a proactive team player with two years of experience working in backend development |
Your Job Hunt Doesn't Need To Last Ages—Get Hired Faster With Lensa!
You could make your cover letter skills pop and do everything meticulously and in the right order—and still not get the job! This would make even the most experienced candidates lose faith in their abilities. Still, the blame doesn't fall on you.
Although the U.S. Bureau of Labor Statistics has officially stated that the national unemployment rate is lower in 2021 than it was in 2020, the situation remains grim. Almost one-quarter of workers have switched positions, testifying to the extreme fragility of employability.
To add insult to injury, unqualified candidates made up more than half of all applications according to a 2021 survey. No matter the job board you hop onto, you'll find stiff competition. It can take months of job hunting for a company to notice you—and even then, who's to say if the company is a good match for you?
Making it to an interview is difficult in itself, but the actual chances of getting hired are about one in three. This all makes for a dreadful situation, but there is one bright spot in the darkness—Lensa!
Lensa is a job aggregator that helps its users make better, more informed choices along their career paths. Some of the perks you'll receive when you subscribe are:
Access to an extensive number of job listings across different hiring platforms
A customizable profile that increases the odds of finding the desired employer
Ability to play the Workstyle game, which gives you a glimpse into your professional strengths and weaknesses
An effective filtering system that lets you see roles tailored to your character, location, and preferred salary range
Instant notifications when a specific job position you're after opens up
How To Register for Lensa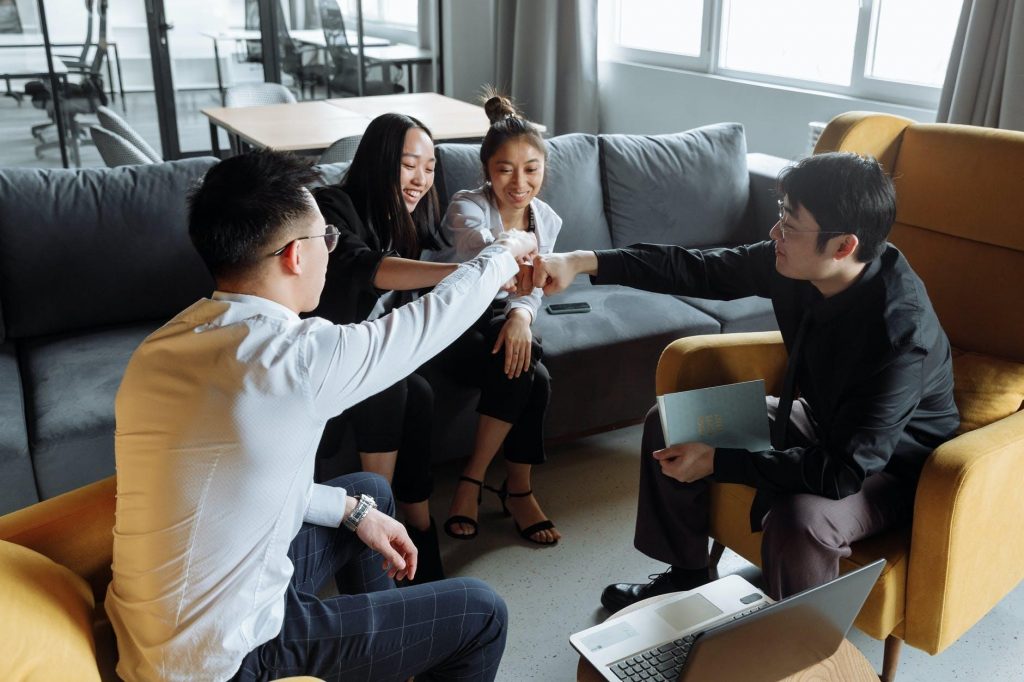 Source: Thirdman
You can make your search for that dream job easier right now—by subscribing to Lensa!
Follow these four easy steps:
Enter the desired job title and provide your location
Press the Search button
Add your email address and click Submit
That's all you have to do to create an account! You can then play the Workstyle game or customize your profile.
Here's some additional stuff you can do:
Enter your first name, surname, and telephone number in order to receive SMS notifications
Provide our AI with information about your education degree, prior work experience, and desired salary
Upload your resume to unlock additional features, such as Company Reviews and Matching Companies
When you finalize your profile, you will begin receiving job suggestions according to your education, experience, skills, and any miscellaneous preferences you add!
Featured image source: Andrew Neel