Cover Letter for Customer Service Representative (With Sample!)
Don't feel like reading? Listen here!
The purpose of a cover letter is to provide the recruiter with insight into your motivation, skill set, and mindset. It also serves as a more personal introduction of who you are, whereas a resume (or C.V.) focuses more on what you have done.
The cover letter serves as an introduction to your resume. It frames the context of the achievements you highlight on your resume and invites the recruiter to peruse your resume with interest. It should express that you have the personality profile and background that would suit nicely with what a customer service representative does.
The cover letter should be short, and it should incorporate some of the language found in the job offer you are responding to. It should give the recruiter an indication that you have the soft skills (interpersonal skills, work ethic, and motivation) that they are looking for.
The Three-Paragraph Format for a Cover Letter
While there are no hard and fast rules on formatting a cover letter, a popular form is to have the cover letter made up of three paragraphs.
Paragraph One
In the introductory paragraph, you should explain how you heard of the job offer and why you decided to apply. You can accomplish this in two short sentences.
Paragraph Two
In the second paragraph, you should incorporate some of the ideal candidate's attributes, skills, and characteristics described in the job offer. And, you should cite a few examples of how they apply to you. End the second paragraph by stating how you believe the company could utilize these attributes and skills to satisfy their specific needs.
Paragraph Three
In the conclusion of the cover letter, you should express your availability and invite the recruiter to contact you for an interview.
Sample Cover Letter
Opening Paragraph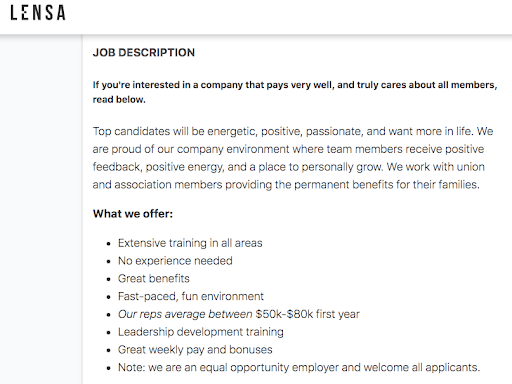 This screenshot is taken from the job offer found on the Lensa site here.
For our sample cover letter, we will focus on the information provided in the job offer that pertains to the company and the position offered. This information will inform our introductory paragraph. We want to convey that our philosophy and work ethos are in line with the company.
Dear Company,
After completing an 8-month contract with X, I am currently seeking to join a team with whom I can continue my professional growth. I am limiting my search to companies that provide a positive environment, feedback, and training, and where my passion, energy, and ambition will be encouraged.
Why This Opening Paragraph Is Effective
In this concise opening paragraph, we have stated why we are searching for a job, and we are giving the impression that what the company offers and the company's values are in line with what we are looking for.
Notice how we have incorporated the language and ideas laid out in the job description:
Team

Professional growth

Positive environment

Feedback and training

Passion 

Energy

Ambition (expressed in the job offer as "want more in life")
Second Paragraph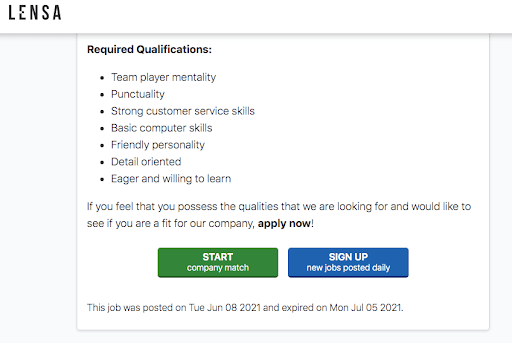 This screenshot is taken from the job offer found on the Lensa site here.
For the second paragraph of our sample cover letter, we will focus on the bullet points in the "Required Qualifications" section and try to include as many as possible.
I began cultivating a team player mentality at an early age—starting with participation on my school's volleyball team—and have continued to grow in this mindset throughout my professional career. And you can see from my resume that I possess strong customer service skills—notably, the ability to use positive and persuasive language to resolve conflicts. I have basic computer skills and, with my eagerness to learn, I expect those skills to develop even further. Detail-oriented, friendly, and reliable, I believe I would be a solid asset to your company.
Why This Second Paragraph Is Effective
In this second paragraph, we have used the descriptive words found in the job offer and made them relate to our personal career path. We used all seven of the bullet points—substituting "punctuality" for "reliable". We have also invited the recruiter to read our resume. (And, in a way, we have instructed the recruiter how to read it: "…you can see from my resume that I possess strong customer service skills…")
Final Paragraph
I can be reached by phone (provide the number here) or email (provide the address here), and I look forward to discussing my candidacy with you further, whether in person, by phone, or virtual meeting. I am confident that, should you grant me an interview, I will convince you of my seriousness and motivation and that I possess the skills and mindset you are looking for in a customer service representative.
Thank you for your consideration.
Regards,
Your name
Why This Final Paragraph Is Effective
In a few short sentences, we have accomplished all that a cover letter's final paragraph should achieve:
Express our availability (and flexibility)

Request an interview (and promise to make it worth their while)

Reiterate that we are the right candidate for the position they are seeking to fill
In a Nutshell
A cover letter should be concise and skimmable. We want to provide a more personal or human context to the information given on the attached resume. We want the recruiter to be encouraged to read our resume (and with the framing we choose). And we want to express our availability while asking for an interview where we feel confident we will be able to persuade the recruiter we are the right candidate for the job.