Discriminating States and Industries
An overview of workplace discrimination and dismissals across the US
Unfortunately, people often encounter bumps in the road during their careers that can sometimes lead to dismissals from their employment. While some dismissals can be justified, the employees in question may often feel unfairly treated and are left to look for new job opportunities at a different company or organisation.
When an employee thinks that they were not treated fairly, they can lodge a formal complaint with the US Equal Opportunity Commission (EEOC). Charges can be brought against an employer for unfair dismissal for a variety of reasons, including discrimination based on age, gender, disability, or race. While not all complaints are successful, this process helps to level the playing field between employer and employee, providing additional protections for workers.
As dismissals can be a severely stressful and derailing experience for employees, we wanted to assess just how prevalent they are across the country. Having looked through the official statistics, we will reveal which states and industries see the most dismissals, and which causes for complaints of unfair dismissal are the most common.
This will provide insight into the most hospitable workplaces as well as reveal the industries and states where they are most likely to run into difficulties.
Charges of unfair dismissal in the US
Our first consideration was the most common reasons why people feel they have been unfairly dismissed from their roles. These often refer to different forms of discrimination which, if proven, would put the employer in question in the wrong and should result in a successful complaint on the part of the employee.
1.Retaliation
2020 Charges of Unfair Dismissal: 37,632
The most common cause of an unfair dismissal claim is retaliation, which was cited as a reason in 37,632 cases in 2020. Retaliation refers to instances where an employee was treated unfairly or discriminated against due to their filing a complaint of discrimination, participating in a discrimination proceeding, or otherwise opposing discrimination.
2.Disability
2020 Charges of Unfair Dismissal: 24,324
Disability is the second most common cause of unfair dismissal claims, with a total of 24,324 separate charges. If someone feels that they are treated poorly due to their disability, then that is discrimination. If you feel you have been treated unfairly in this way, you can lodge an official complaint.
3.Race
2020 Charges of Unfair Dismissal: 22,064
Race was the third most common reason for unfair dismissal claims in 2020, with 22,064 charges being made. Thankfully, the process for lodging complaints of unfair dismissal has a 95.8% success rate, so you can at least go to work knowing the law is on your side.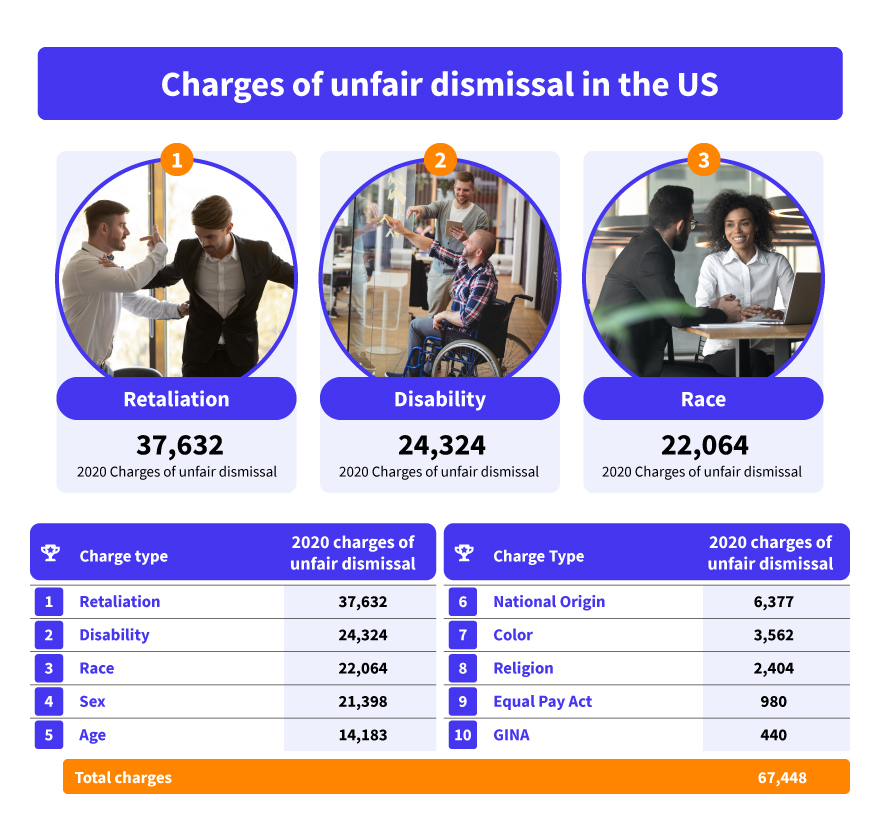 Changes in why people claim unfair dismissal
Over the last few years, the atmosphere around discrimination in the workplace will have undoubtedly changed, but which forms of discrimination are less common, and which are on the rise?
Thankfully, the majority of forms of workplace discrimination have decreased since 2015, with claims of unfair dismissal based on national origin seeing the sharpest decline of 32.43%. Unfair dismissal claims for reasons of race, age, and religion have all also fallen by around 30%, while cases of unfair treatment based on disability, sex, and retaliation have also dropped.
However, several categories have seen an increase in the number of charges of unfair dismissal, with the largest percent increase being for GINA (Genetic Information Nondiscrimination Act) discrimination. GINA refers to discrimination based on someone's genetic information in health coverage and in employment and has seen a rise of 71.21%, though actual figures remain relatively low at 440 in 2020. Discrimination based on color saw the second-largest increase of 25.73%, while claims made based on the Equal Pay Act was the only other category to see a rise in cases, though this was a nominal increase of 0.72%.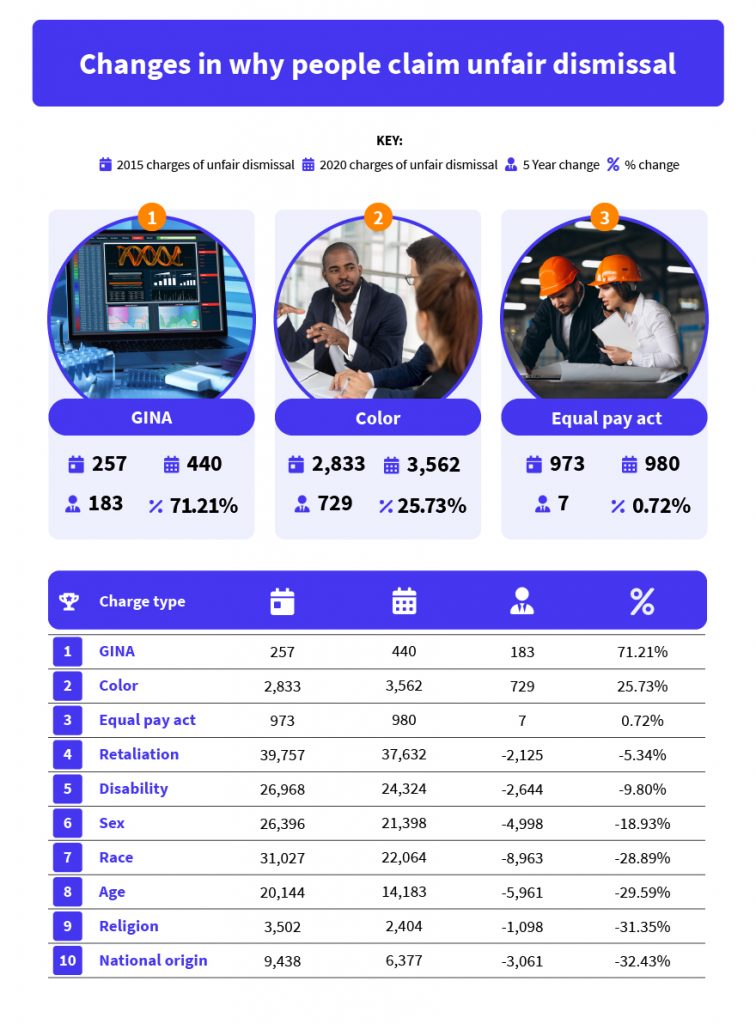 States with the highest rates of unfair dismissal
We've also taken a look at which states see the highest rates of charges of unfair dismissal. We've taken the total number of unfair dismissal cases and compared that to the state's population in order to rank each state while taking their relative size into account.
1.Washington, D.C.
Unfair Dismissal Charges per 100,000: 60.04
The state with the most unfair dismissal charges is Washington, D.C., where there were 60.04 cases per 100,000 people. This makes it by far the worst state for unfair dismissal claims.
2.Mississippi
Unfair Dismissal Charges per 100,000: 37.99
In second place is Mississippi, which recorded 37.99 unfair dismissal charges per 100,000 people.
3.Georgia
Unfair Dismissal Charges per 100,000: 37.58
Georgia takes third place with 37.58 unfair dismissal charges per 100,000, making it just a fraction better than Mississippi.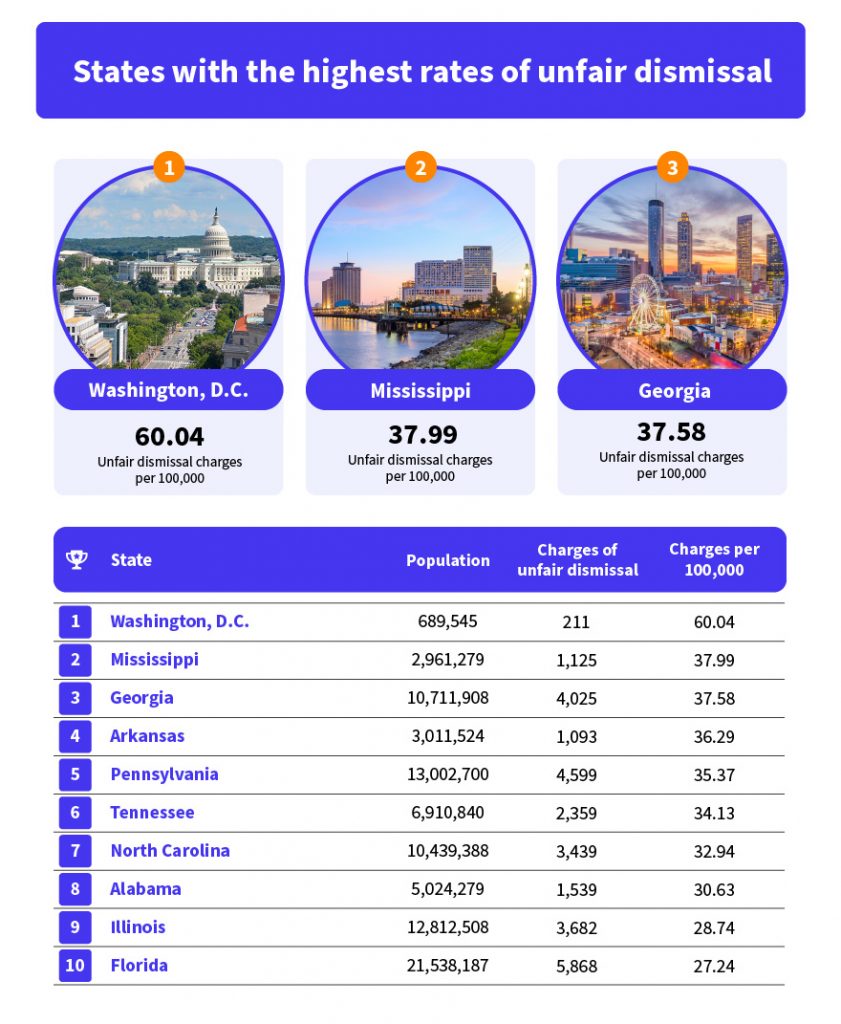 States with the lowest rates of unfair dismissal
On the other side of the coin are the states with the lowest rates of unfair dismissals, making them the most accepting and employee-friendly places to find work.
1.Maine
Charges per 100,000: 1.91
Maine is the state with the lowest rate of unfair dismissals in the country, with only 1.91 per 100,000 people. This makes Maine the best state in the country for treating its employees fairly, making it an attractive location to look for work.
2.Idaho
Charges per 100,000: 3.10
Idaho is the second best state in terms of unfair dismissal rates, with a rate of 3.10 charges per 100,000 people.
3.Montana
Charges per 100,000: 3.41
Montana is the third best state in the country for fair employers, with 3.41 unfair dismissal cases per 100,000 people. Interestingly this means that all of the top three best states are in the very north of the country.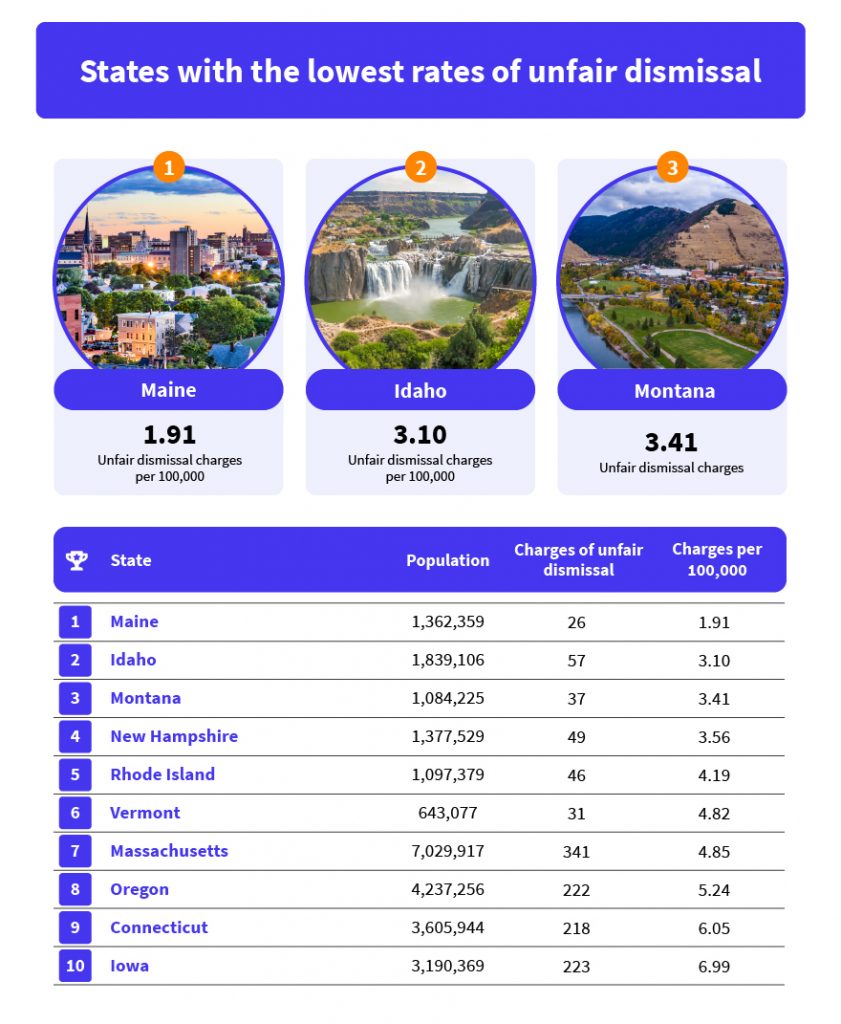 Charges of unfair dismissal by state and type
In addition to total levels of unfair dismissals in each state, we've also found out how different parts of the country compare for different types of unfair dismissal. See below for an in-depth look at the which types of workplace discrimination are most common in which states.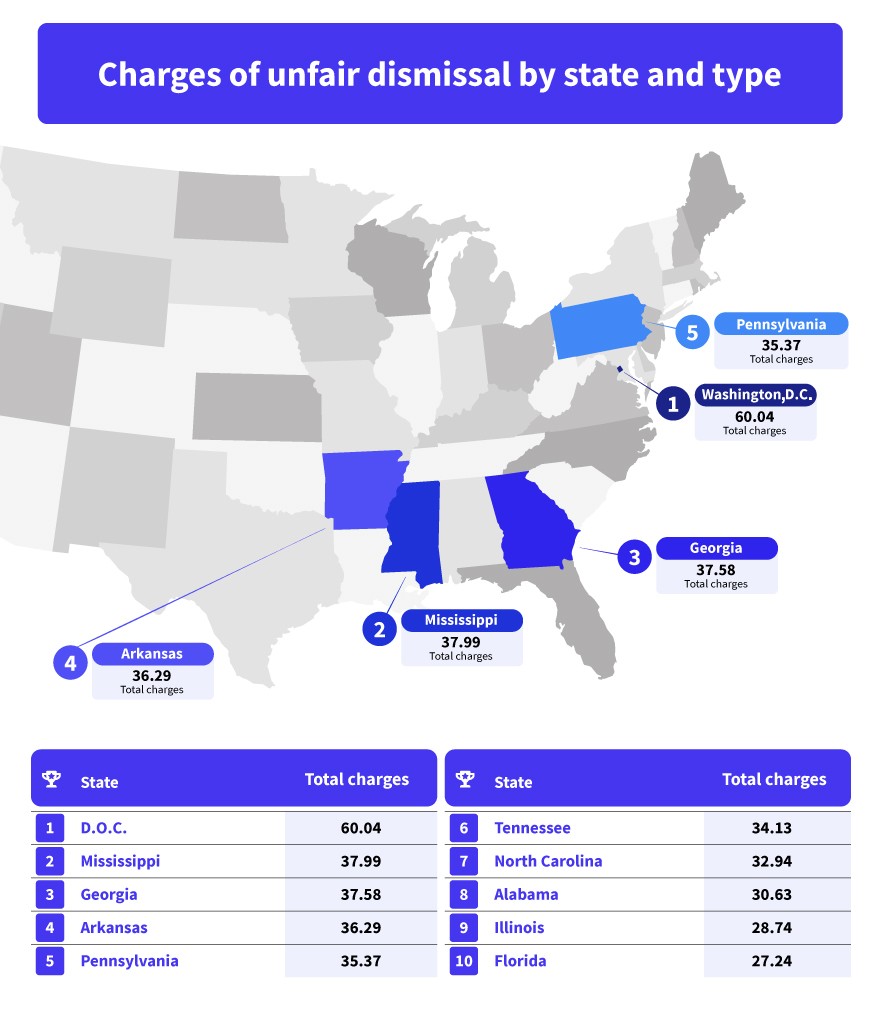 Industries with the most dismissals
Dismissals can also vary wildly between different industries, as well as locations, so we've used official statistics to determine which industries see the largest numbers of their employees getting fired.
1.Professional and Business Services
December 2021 Dismissals: 342,000
The industry with the highest number of dismissals is Professional and Business Services, which saw 342,000 dismissals in December. This equates to 1.6% of the employees in the industry.
2.Trade, Transportation, and Utilities
December 2021 Dismissals: 257,000
Trade, transportation and utilities saw the second highest level of dismissals in the country at 257,000, equivalent to 0.9% of the industry's workforce.
3.Construction
December 2021 Dismissals: 188,000
The industry with the third highest level of dismissals is construction, which saw a total of 188,000. This is equal to 2.5% of workers in the construction industry.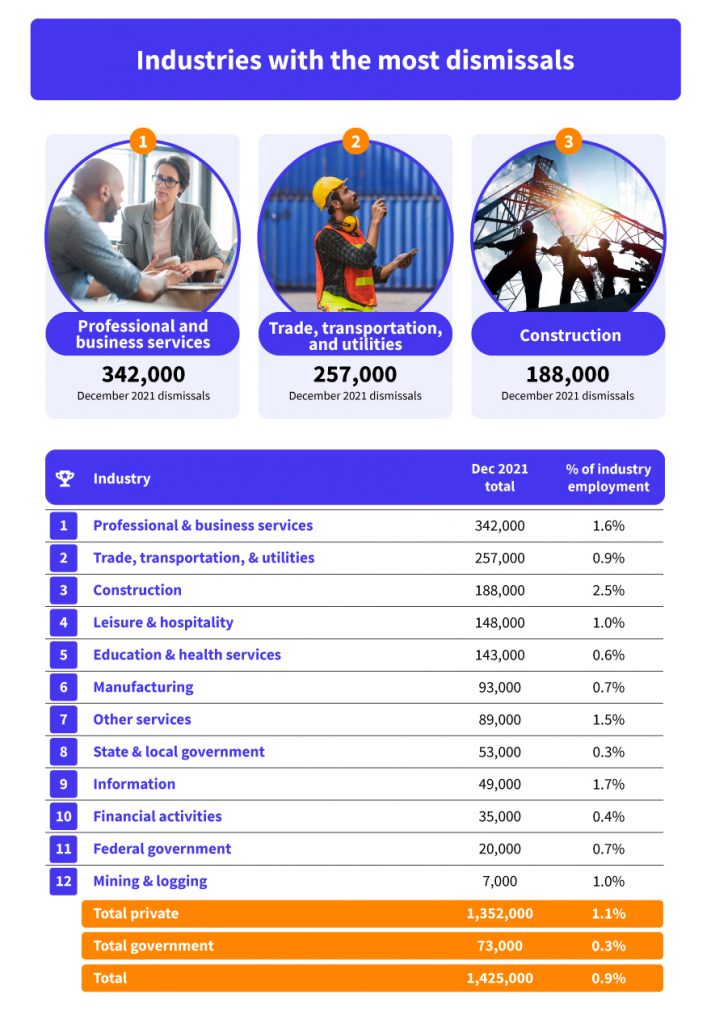 Changes in dismissals by industry: 2020-2021
Using data from December 2020 and December 2021, we can calculate how dismissal rates are changing across different industries. We can reveal those industries with the biggest increase and decrease in dismissals, indicating that they are the least and most safe for job security.
The biggest increase in dismissals: Federal Government
% Change: 53.85%
Federal government has the highest increase in dismissals in 2021, with rates rising by 53.85%. This reflects an increase of 7,000 dismissals in one year.
The biggest decrease in dismissals: Leisure and Hospitality
% Change: -72.13%
The leisure and hospitality industry saw the biggest decrease in dismissal rates with a fall of 72.13%, reflecting a huge reduction of 383,000 dismissals compared to the previous year.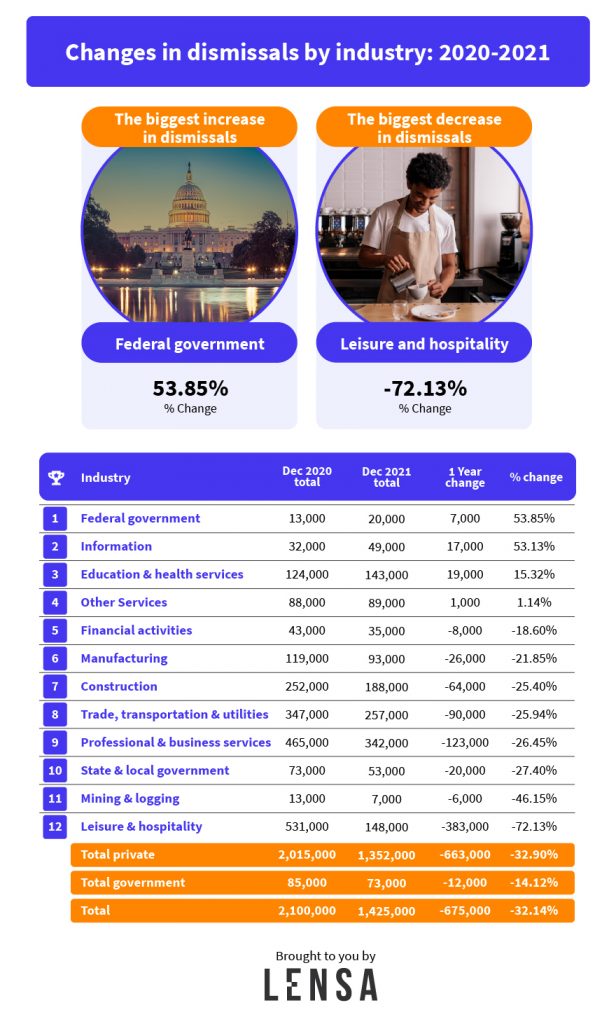 Methodology
We wanted to find out how prevalent unfair dismissals are in the US. To do this, we used EEOC data to look at the national figures for unfair dismissal numbers, as well as the rates in different states. To calculate these rates, we used population data for the U.S. Census Bureau.
We also used EEOC data to see which causes for unfair dismissal claims are the most common, indicating the forms of discrimination that employees are most likely to encounter.
Additionally, we used data from the Bureau of Labor Statistics to find out which industries have the highest and lowest number of dismissals, comparing figures from December 2021 to December 2020 to reveal the industries where dismissals are rising and falling.