Step Into Adulthood With a Winning High School Student Cover Letter
Being a high schooler is much like being stuck in the gray area of life. You feel like an adult (your obligations surely feel adequate for the title), but you're still being treated like a kid.
Writing a killer high school student cover letter and getting that first job is a monumental step in the right direction.
Before you dive into writing, many questions spring to mind. How should you structure the cover letter? Is your limited experience enough? How can you win over recruiters? It's as good a time as any to answer these questions.
Why Should You Write a High School Cover Letter?
The main purpose of any cover letter is to show a potential employer why they should hire a candidate. It's a chance to present oneself as more than a set of skills that are listed on a resume.
Source: Mikhail Nilov
You might be wondering whether cover letters for high school students are necessary. No matter how limited your experience is, remember that your time, skills, and education are valuable. Presenting them neatly in an entry-level cover letter will put you on the map and trigger the right kind of response to your application.
What Should a Cover Letter for High School Students Look Like?
Although you may not feel you're fully qualified for the job, demonstrating good writing skills in your cover letter will show that you're serious about the position (writing a formal document is a big deal).
Fortunately, you can always use an online template to get started. A cover letter template for high school students can be useful—but it actually isn't that different from any other cover letter. A cover letter outline should contain these six parts:
The opening paragraph
The body
The farewell
The Header—Start With Your Basic Information
The main purpose of the header in a cover letter is to present contact information in a concise and tidy manner. This is where you'll write the date, your name, your email address, and company information.
Make sure to double-check the spelling of all this info. The date is the easiest one to get wrong. Messing it up can come off as careless. If you're writing multiple cover letters, check if you've put the current date in each one.
Never write those details (or anything else in the cover letter) in the actual MS Word header. If the company you're applying to uses an applicant tracking system (ATS) to sort and scan job applications, it will not be able to pick up the information in the header (or footer) of the page in MS Word.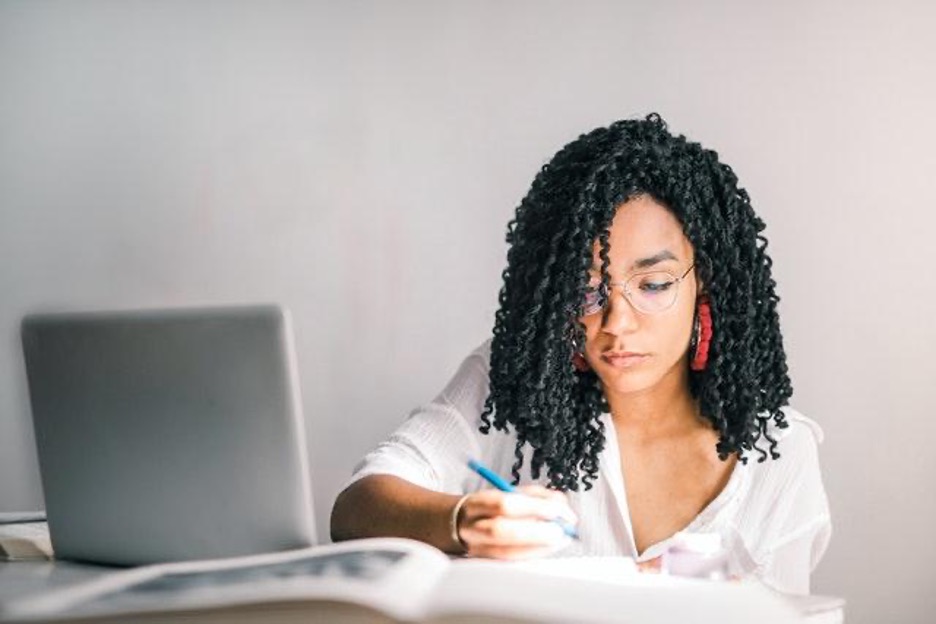 Image source: Andrea Piacquadio
The Greeting—Address the Recruiter Formally
Be respectful and formal regardless of whether the company's vibe seems casual or not. It's better to come off as overly professional than too relaxed.
Here are some right and wrong ways of addressing a recruiter:
Addressing a person by name (for example, "Hi Melinda") could work if you've already met them before. You should avoid titles like Miss and Mrs. and stick to the neutral Ms. Remember that there should always be a comma following the greeting.
The Opening Paragraph—Tell Them Why You're Interested
Keep the opening paragraph of your cover letter short and to the point. You can use this paragraph to tell the recruiter how you found their job ad. If you're applying via a referral, don't forget to mention it in this part.
Explaining why this specific job position is so appealing to you can help your cover letter stand out. Be honest and share your interest in the profession in a few words.
In this paragraph, make sure to mention your desired role—as well as the company—by name. This may not strike you as relevant right off the bat, but the longer you spend searching for a job, the more cover letters you'll send—and recruiters know this. If you make an effort and customize your cover letter for their company and a vacancy in it, you'll demonstrate good attention to detail and determination to work for them specifically. That will increase your chances of being called in for an interview more than you realize.
The Body—Emphasize the Skills You're Bringing to the Table
In most high school cover letter samples, this part is the longest one. It carries the most weight and meaning.
The skills you'll mention can be divided into two categories—soft and hard. Here's what you can include for each category:
Soft (People) Skills
Hard Skills
Active listening
Teamwork
Communication
Time management
Academic qualifications
A specific certificate
Computer skills
Foreign language skills
Merely listing your skills—as you would in a resume—isn't ideal for the body of your cover letter, especially if the list isn't a very long one.
Once you write down the skills, you want to mention how useful they are for the position you're applying for. Make your cover letter easier to read or skim by bolding the skills and organizing them in the form of bullets.
Note that many companies use an ATS, which is software that's designed to cast away applications that aren't worthwhile.
One of the ways it does that is by looking for keywords that are usually mentioned in job ads. Even though your experience is limited, make sure to work in the key phrases mentioned in the job description and find a way to connect your experience to them.
The Closing Part—Add a CTA
As you're nearing the end of your high school cover letter, encourage the recruiter to reach out. Even if you don't meet their criteria right now, make a good impression and be friendly since they might consider you later on.
The Farewell—End the Cover Letter Properly
You've reached the end! It's time to say goodbye in a formal yet friendly way. Some phrases that are encouraged are: Sincerely, Best regards, and Respectfully. Don't even think about using: Bye, See you soon, or Have a good one. Additionally, don't use emojis or—and this might be the worst—close the letter without a proper goodbye. There's no room for ghosting in the cover letter world.
How Do You Write a High School Cover Letter To Win Over Recruiters?
Writing a cover letter with years of working experience under your belt sounds like a breeze, right? High school students usually don't have this advantage. Since memorizing six TikTok dances in under an hour apparently isn't something recruiters are normally looking for, some more traditional skills will have to come into play.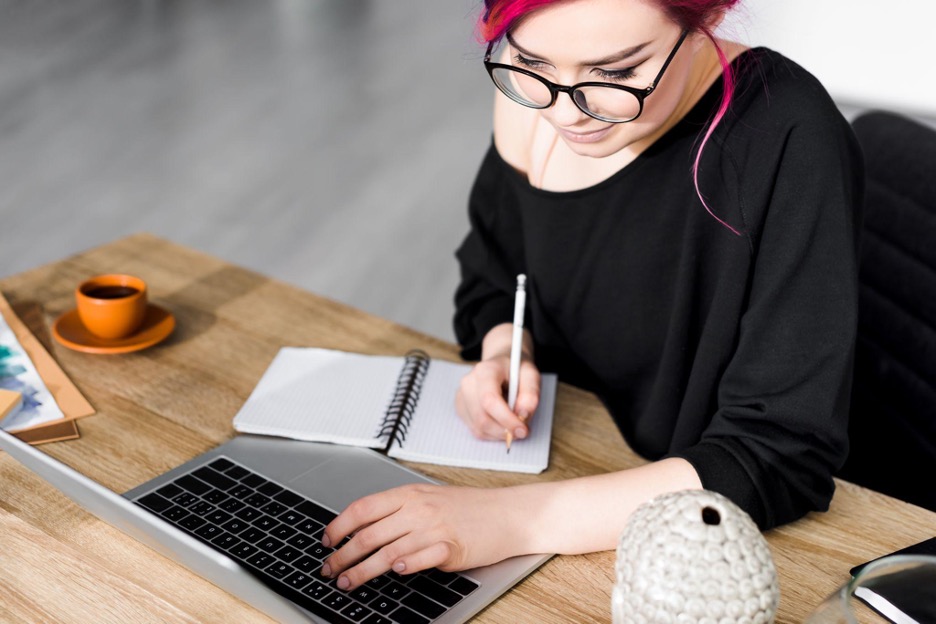 Source: HayDmitriy
The main goal of any cover letter is to show the recruiter that you're a great fit for that specific role. Use these steps in the opening paragraph and the body of your cover letter to show them that you're exactly what they're looking for even though you're a high schooler:
Express your enthusiasm for the field of work in question—Make sure to mention your interest in that particular field of work and some relevant skills (if you have them). Employers always prefer to hire people that are passionate about the work they'll do
State your general skills with examples included—Share examples of how you have or will use these skills. For example, if you've organized events at your school, it will show initiative and leadership skills—ones that you'll be able to carry over to your job
Show your willingness to learn—Make it known that you're able to learn and adapt quickly. You need to assure your future employer that they'll be able to train you to do the work that needs to be done even though you don't have the hard skills to start with
While you can present your interest in the job and your fitness for it in different ways, you shouldn't mess with formatting too much—font styles that are too artsy can be distracting.
What Does a Recruiter Look for in a High School Candidate?
When you're applying for any job, it's important to be realistic. You won't apply for a position that's meant for people with a college degree.
Source: Canva Studio
That being said, there are certain qualities that recruiters look for in high school candidates. Don't forget to mention:
A summer job or a part-time job during high school—this experience shows that you're responsible and likely have good time management skills
Team projects—including this emphasizes that you have good communication and people skills. If you've worked with a group of people at school or on a previous job or internship, mention it
Leadership roles—having this experience under your belt presents your willingness to take initiative. This goes for extracurricular projects, sports teams, or anything similar
Find a Job Without Hassle With Lensa's Help
Once you've written a solid high school cover letter, the hustle isn't over just yet. Job-hunting can be a painstaking process with fierce competition—a process that results in an interview only for a select few.
The U.S Bureau of Labor Statistics reports a grim-looking situation. With the number of unemployed people at 6.5 million, the unemployment rate of 4%, and recruiters receiving way too many job applications, a job obviously isn't something that'll fall right into your lap.
What if you didn't have to go through the never-ending job hunt? With Lensa, you don't.
There's no need to look through hundreds of job boards endlessly to find one ad that seems suitable. Lensa offers job seekers from all over the globe a chance to find their perfect role. With minimum effort, you'll get to choose from a variety of customized job ads.
Subscribing to Lensa comes with many benefits:
Ability to see job ads from numerous job boards all in one place
Quick registration
Personalization of your account to find the best fit
The Workstyle Game that'll help you discover your professional strengths
Enhance Your Job Search Experience—Sign Up for Lensa
Make your job hunt easy and efficient by signing up for Lensa. It'll truly take no time at all!
You only need to follow these steps:
Go to our website
Enter your preferred job position and your location
Add your email address
Click on the Submit button
Featured image source: Vadymvdrobot