Job searching during a recession or economic downturn isn't easy, but with the right strategy, you can get interviews and get hired. 
There are always some employers that are doing well and looking to hire people, even when the overall market looks discouraging.
In this article, I'm going to share 4 steps you can use to identify industries and companies with the most hiring activity in a recession or other crisis, so you can get more responses and interviews when applying for jobs.
1. Identify the Best Industries to Target
It's best to start with high-level planning to see which industries and sectors are still hiring.
During a crisis, some industries perform far better than others, so choosing the right industries can be the difference between finding a job quickly and not getting interviews.
To start, I recommend doing this research on job boards. Choose two or three of your favorite job boards, and run a few keyword searches with job titles that fit what you're looking for.
If you're looking for a customer service job, here are some example searches you could run:
Customer service

Customer service associate

Customer support
Now, here's the most important step: Look only at jobs posted in the past 14 days, and for each job you see, make note of which industry that employer is in.
You can also apply to the jobs you find, or better yet – see if there's anyone in your network who can introduce you to a hiring manager before you apply online via the job board.
But the most important thing to do at this point is to note which industries are hiring most, and which are not hiring at all.
From this info, you can adjust your strategy and decide where to spend your effort when finding a job, which will save you hours.
You may find that there's still hiring going on in your industry, which means you won't have to change careers. However, you may find that a slight pivot is needed, at least in terms of industry.
(It's possible to keep the same general job function – like sales, HR, accounting, marketing, etc. – in a new industry. This is often the best way to get hired quickly when pivoting).
2. Find Employers in the Top Industries
Now that you've seen which industries are doing the most hiring, you can focus your efforts in those sectors. Network with people in those industries. Search for job boards and job portals dedicated to those industries. Use Google to find lists of top employers in those verticals.
For example, if you found that the healthcare industry was doing well, you could search for phrases like:
"Top healthcare employers"

"Healthcare employers in Dallas"

"Largest healthcare companies in Texas"

"Fast growing healthcare companies Texas"
Once you have some names, you can also visit the company's LinkedIn page to see other similar organizations, via the "Similar pages" section.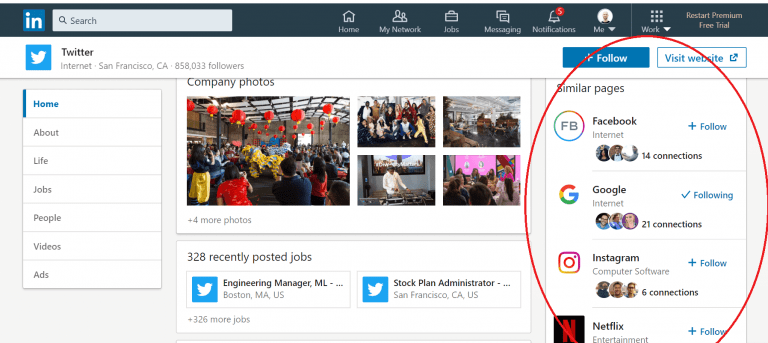 You can also see how many recent jobs a company has posted on their LinkedIn profile page. While not every employer you come across will be hiring, even in the strongest industries, many will (and far more than if you hadn't done the industry research in Step 1).
One more note: It's often worth sending an email to companies that interest you, even if they don't have a relevant job listed.
This may seem like a long-shot, but there's far less competition this way, so you may be surprised by the responses. Often, employers are planning to post jobs, or are open to hiring talented people in general if they're growing quickly, so you could get responses even if you didn't see a job posted online.
I experienced this multiple times as a recruiter. In fast-growing companies, hiring managers would tell us that they're open to seeing top-notch candidates in certain functional areas, even if they didn't have a job open at the time. They simply wanted to hire talented, energetic, smart people because they knew they'd be able to find a place for them as the company grew.
Colleagues, former coworkers, and friends can be good ways to hear about opportunities when job searching during a recession, depression, or other crisis.
And while it can be intimidating to message someone to ask for help, people are often more open to hearing from you during a time of crisis.
So now is the best opportunity to reach out to your network and ask for assistance, in the form of information. (Don't ask for a big favor or an introduction to a hiring manager right away. It's best to start with a small request that's easy for them to reply to).
Here's an example of a first message you could send:
Hi <Name>,
How are you? 
I'm not sure if you heard but there have been a lot of layoffs in my industry. I know you're in a very different industry than me. What has your impression been so far of how your company and others in that space are holding up? 
I'm trying to gather some information as I plan out my job search after being laid off here. I don't think staying in my current industry is going to be viable now. 
Or, if they're in a very similar field to you, then you could write:
Hi <Name>,
How are things going?
I know you're in a slightly different niche within our industry. Do you have any sense of whether companies are laying a lot of people off? Or are things holding up pretty well?
I've been laid off and I'm trying to strategize and plan my job search and decide whether I should stay in this industry or move elsewhere. Any insights you can share would be a big help.
I find this general approach – asking for someone's opinion or impression – to be a great way to start a conversation and get a response. Then, you can ask for an introduction to an employer or ask if they know of any specific opportunities later. But by starting small, you'll get far more replies.
4. Use Crowd-Sourced Data
During recessions and times of struggle, people often put together helpful lists and resources for job seekers. 
My favorite type of resource is the crowd-sourced list of companies who are hiring. (Crowd-sourced means that users submit info about their company, and the info comes from many people rather than just one author).
These lists come and go, but you can always find a few by searching Google for terms like: 
"Crowd sourced list of companies who are hiring"

"Crowd sourced list of who is hiring"
These lists aren't always 100% accurate, because the data is coming from so many different sources, but it's one of the fastest ways for you to see hundreds or thousands of employers who are likely hiring right now.
While it may be harder to find a job in a poor economy or a time of crisis, there are always employers who are hiring, and there are always industries that are doing well.
By being strategic about where you apply, targeting companies in the top-performing industries, and utilizing your network and crowd-sourced information, you can find a job quickly… even in a recession, depression, or other crisis.