Bye Pandemic: Industries and Companies Hiring the Most In Each State
Don't feel like reading? Listen here!
Lensa's technology analyzes billions of job descriptions to get clues on evolving U.S. jobs, companies, and industries, providing a critical look at workforce trends. In our report, we share data on industries and companies hiring the most in all 50 states during the pandemic. We also analyze recent employment numbers.
As a premier career platform for millions of users, Lensa empowers job seekers to make smarter career choices. This report offers insight both to job seekers and to those with a broader interest in the state of the U.S. economy. The good news: job market expansion is in sight.
Key Insights on Industries and Companies Hiring the Most
From January 1, 2020 to March 23, 2021, the companies that posted the most open jobs across all 50 states were in seven main industries: healthcare (35.3%), tech (27.5%), government (13.7%), retail (11.6%), HR (5.9%), banking (3.9%) and education (2.1%).

As recently as April 2021, the industries that posted the most open jobs were transportation/logistics, healthcare, customer service, computer/internet, and sales.

Overall, the top three companies that posted the most jobs were Oracle in tech (195,117), Anthem in healthcare (153,117), and Walmart in retail (95,640).
Promising Growth in Employment
Labor force participation hit 61.7% this spring, the highest level since August 2020. Although the economy still has eight million fewer jobs than before the pandemic, there is cause for optimism: the U.S. added 266,000 jobs in April alone and 1.5 million jobs over the last three months. In fact, experts hope to regain the majority of jobs lost by the end of 2021.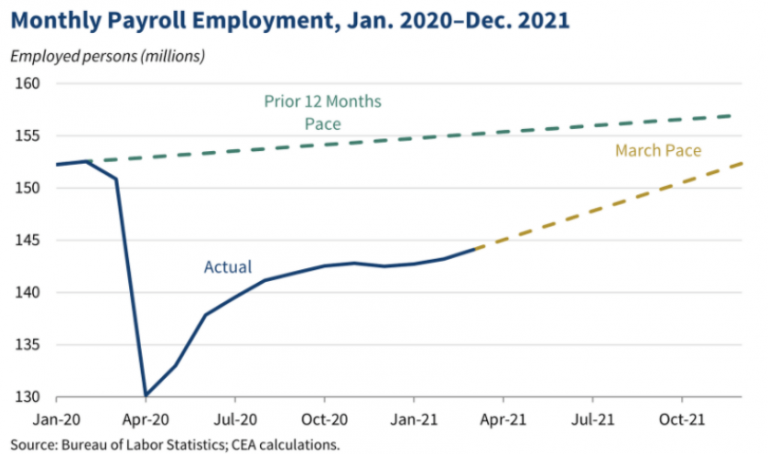 By following these rising opportunities, job seekers can keep their chins up and increase their chances of finding work by targeting industries and companies hiring like crazy despite the pandemic. So, which industries?
Industries With the Most Open Jobs During COVID-19
It's no surprise that healthcare has been the #1 hiring industry since the outbreak of the pandemic, overtaking 18 out of 50 states (35.3%) with the highest number of job posts. Tech was next with 14 states (27.5%), government with seven (13.7%), retail with six (11.6%), HR with three (5.9%), and banking with two (3.9%).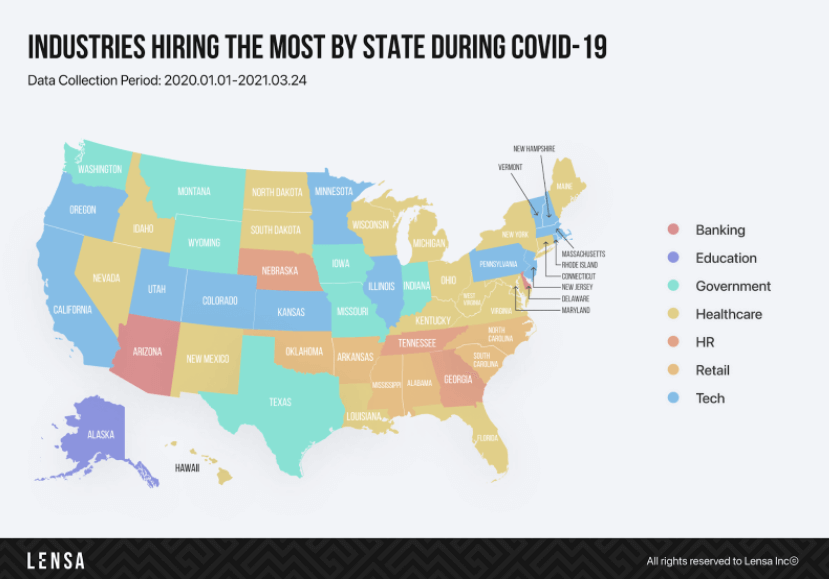 As the pandemic rages on and vaccine rollouts have started, we expect the need for healthcare professionals to stay up. Experts estimate we won't reach manageable levels with COVID-19 cases unless over 70% of the U.S. population gets vaccinated. Whether the pandemic stretches out longer, a 15% growth in healthcare is projected until 2029 due to an aging population.
Tech is also quickly expanding. The industry achieved eight straight months of employment growth. According to IT employment consultancy Janco Associates, nearly all of the IT jobs that were lost in 2020 have come back in 2021; another 70,000 jobs will be added this year.
Government is on a roll as 125,000 jobs were added in March and 48,000 in April, around 85% of them in state and local education in both months. We saw boosts in additional segments. Healthcare and tech as well as transportation/logistics, customer service, and sales all posted a soaring number of jobs in April.
Employment numbers tell us about other resilient spaces. From February 2020 to March 2021, employment was up by 23% for couriers and messengers, by 7% for building material and garden supply stores, and by 7% for warehousing and storage.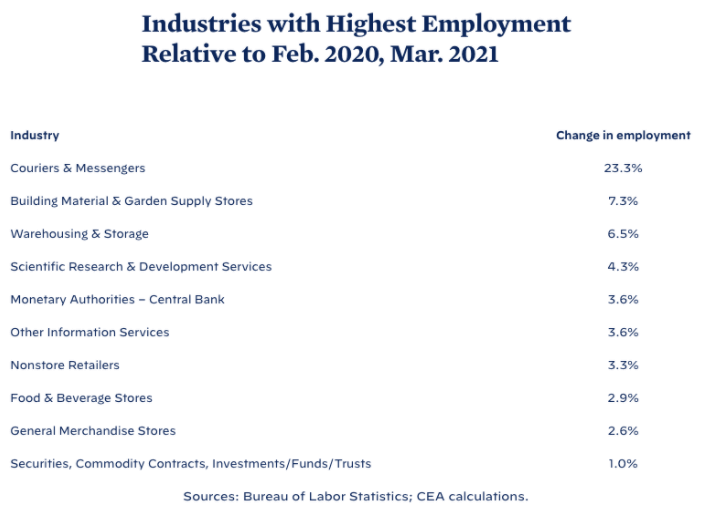 For those who are open to exploring industries, going for areas that have been hiring in full force is a solid tactic. Going one step further by focusing on top companies within these high-demand industries is a game-changer. Let's go through them.
Companies With the Most Open Jobs During COVID-19
Overall, the top three companies that posted the most open positions were Oracle in tech (195,117), Anthem in healthcare (153,117), and Walmart in retail (95,640).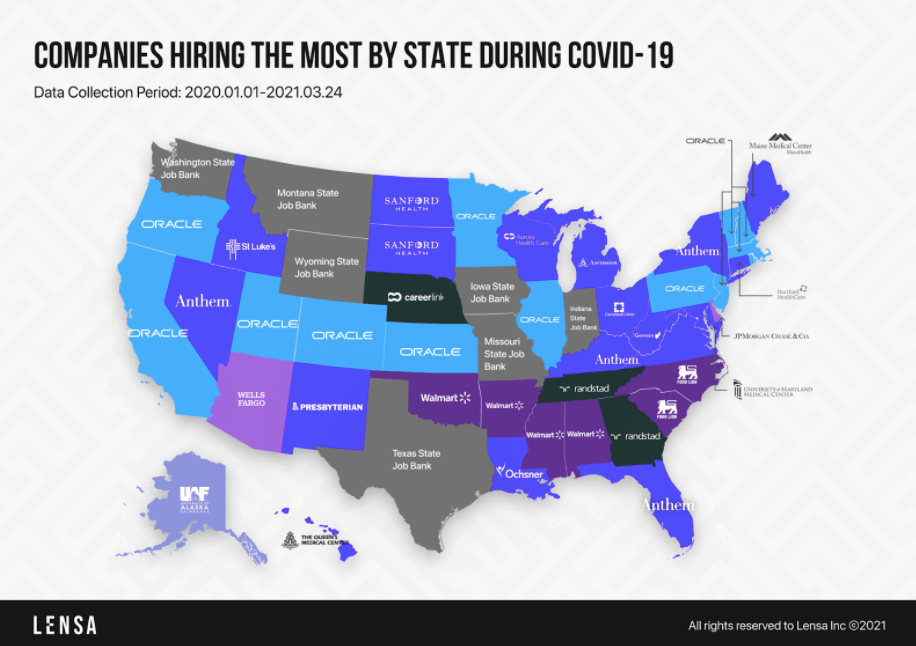 With almost 200,000 open jobs, Oracle is hiring in various departments

like IT, software engineering, sales management, and marketing. What's more, the tech company ranked 23rd as one of the

top companies for remote jobs in 2021

, providing a greater possibility for people to apply for positions regardless of their location.

Anthem is another top remote company

ranked at 35, hiring for positions in healthcare such as customer service rep, business analyst, and project manager. Other top hiring and remote companies include Randstad in HR and Wells Fargo in banking.

The giant

retailer Walmart

is hiring for positions such as category specialist, software engineer, project manager, and cashier. And there's a high chance of career advancement. An average of 42% of employees have been promoted after at least one year in their position.

We recommend that job seekers broaden their search by considering booming and remote-friendly companies.
Now We Know About the Industries and Companies Hiring the Most. What's Next?
It's been a rough period, but hope is not lost. The last few months gave us accelerated job growth, and that feels promising. We can look forward to President Joe Biden's economic package set to create 7 million jobs as well. Biden's newest pitch called the American Jobs Plan aims to create a whopping 19 million jobs in the next eight years. If passed, here are some of the major activities proposed in this initiative:
Creating 10 million clean energy jobs

Investing in U.S. manufacturing for products like electric vehicles

Repairing infrastructure like roads and schools

Expanding broadband to rural areas

Building more housing
73% of voters surveyed support the plan, and only time will tell if it gets passed. In the meantime, we'll continue to pay close attention to any growth trends or shifts in Lensa's data on the most prominent hiring industries and companies.
Visit Lensa.com to see millions of job posts and in-depth analyses of the hottest companies.