If you've been looking for a job that won't require you to leave the house, this may be a better time than ever to consider pivoting your career. In general, the number of remote data entry jobs available in the U.S. has been on the rise. Obviously, the number of specific jobs open at any given time will vary by industry; however, 55% of businesses globally offer some capacity for remote work. The IT industry is one of them.
COVID-19 and Data Entry: What Gives?
As a result of lockdowns associated with the coronavirus pandemic, American workers' habits have shifted dramatically.
Although teleworking had been on the rise even before the pandemic, it has now increased substantially, with more people working at home whenever possible… Even when stay-at-home orders are relaxed, many workers may continue working at home until the pandemic is fully contained. (U.S. Bureau of Labor Statistics)
Because data entry work is typically done completely through computers, individuals completing data entry jobs are in the group most likely to continue working from home for the foreseeable future.
This is not to say that all IT data entry jobs can be done from home. Many companies want their workers to transition back to onsite employment, either at some point down the road or even now–provided they can do so safely amid the pandemic.
Essential Skills for IT Data Entry Jobs: What's Needed?
Of course, thriving in an IT data entry job requires more than simply owning a computer. There are a few other essential skills that will come in handy.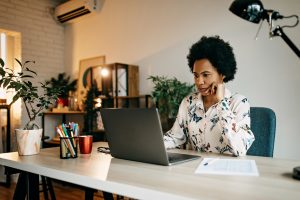 Technological Competency
Though many data entry jobs are entry-level, requiring little by way of previous skills or experience, IT data entry jobs are on another level. In many cases, you'll be required not only to understand technology yourself, but you'll also need to explain how it works to others.
To that end, you'll need to demonstrate the following skills and competencies: 
Extensive knowledge of personal computers (hardware and software)
Deep experience with network operations
Troubleshooting skills
Oodles of patience
Excellent communication abilities
Working knowledge of phone etiquette 
While responsibilities will vary from position to position, IT data entry jobs reference "IT" for a reason. They all require a basic knowledge of information technology.
Keen Attention to Detail
Detail-oriented people tend to excel in IT data entry jobs.
They notice discrepancies.
They organize systems quickly and effectively. 
They listen with a keen awareness of what's actually being said.
They can analyze large batches of information.
They observe patterns in the data.  
They notice what's missing. 
If those descriptions match you, you're well on your way toward excelling in the IT data entry job of your choice.
High Concentration Levels
Because the vast majority of IT data entry jobs are either solitary or remote, you'll need high levels of concentration to keep yourself on task while working from home. When you're in the office or work with a team, you have co-workers, managers, and team leaders hovering around. If nothing else, even just the threat that they could be checking in on you at any time is often enough to keep you on task.
However, when you're working from home or in a space by yourself, you have to do without built-in social guardrails. Being able to sit down, buckle up, move forward with a project, and stay focused until the task is done will greatly benefit you in your IT data entry job.  
IT Data Entry Jobs: Who's Hiring?
If you're looking for a good place to start your IT data entry job search, you've come to the right place. We've put together a few of our favorites. As of the time of this writing, they're still accepting candidates, but don't sleep on them. These positions won't stay open forever.          
SAIC, a premier technology solutions company, is currently seeking to fill a Macdill Air Force Base position in Florida. They're currently looking for an IT Service Desk Technician. Though this job would take place on the base itself, you would be working as non-military personnel. This full-time onsite job would require you to pass a security clearance, so stellar credentials and a squeaky clean record are both a plus.
Required skills and qualifications:
High school education and 2+ years of IT technical support experience
Secret Clearance
IAT Level 2 certification (Security +)
Must be able to work in a 24×7 environment, including 2nd and 3rd shifts
Compensation: Individual compensation packages include benefits and are negotiated applicant-by-applicant based on work history, skills, and experience. 
Kelly Technology
Kelly Technology is currently seeking to fill a temporary, full-time IT data entry position in Tolleson, AZ. If you've been temporarily furloughed from your own full-time job due to the pandemic, this could be the perfect opportunity for you. 
Required skills and qualifications:
Know how to access saved files in a network shared folder
Follow a sequential process to import class templates.
Adhere to timelines for completion
Have experience with Blackboard Learn
Have experience with Synergy
Compensation: Full-time compensation is negotiated applicant-by-applicant.  
Beyond Harvest Foods
Currently, Beyond Harvest Foods is looking to fill both part-time and/or full-time IT services and data entry positions at their Phoenix City, AL location. If you join this company, you'll be partnering with individuals who foster a vision for sustainable food distribution:
Beyond Harvest Foods envisions a thriving food system consisting of a network of regenerative farms, artisanal producers & processors, and educated consumers who regularly celebrate the seasonal, nourishing, and diverse foods from our immediate region and beyond. 
Required skills and qualifications:
Microsoft Excel: 2 years
Data Entry: 2 years 
Compensation: $9.50 – $11.00 an hour depending on the applicant's prior experience
Of course, these three opportunities are just the tip of the iceberg. If you're willing to work remotely, the true vistas of possibility open up. However, to make sure you're accessing the most legitimate job opportunities, always make sure to run your search through a safe and trusted job search site.
That's where we come in.  
We Can Help
Here at Lensa, we know the job search can be confusing, and there are many traps to be avoided. That's why we've put together a trusted job search site to make sure you never waste your time. If you're looking for a remote IT-related data entry job that allows you to leverage your skills for the good of the world, visit Lensa's job search and discover all the new and dynamic opportunities we have to offer.