Finding your dream job can be stressful, particularly in a job market that seems to be growing more competitive every day. However, it is important not to fall into the trap of spending hours every day aimlessly filling out job applications with no real plan for how you want to tackle the job search. The fact is that while job searches can be taxing, they should not feel like a job. If you treat your job search like a 9–5 job, it can quickly beat you down, and you may find yourself losing the passion that ignited your job hunt in the first place.
For this reason, it is important that you develop effective strategies that will allow you to get the most out of your job search. Whether you are looking for your first job or you are considering making a career change, mastering the art of the job hunt will help you to get ahead of the competition and land a job that you are truly passionate about. Yet, if you are finding yourself unsure of what the secret is to getting a job in 2021, you are not alone. The fact is that many people struggle to develop an effective job search strategy. To help reignite your job search, here are a few strategies to help you land your dream job in 2021.  
Figure Out What You're Looking For
Before you begin the job search, it is important that you figure out what you are looking for. Try to picture what your dream role or company looks like. This can help you better narrow down your search to jobs and companies that you are actually excited to work for. This is a critical component of any job search strategy, as you want to only apply to jobs that you are excited about. 
When you are excited about a potential job, this passion and enthusiasm will come across in the interview, increasing your odds of actually landing your dream role. When trying to figure out what your ideal job looks like, think about the schedule you would like to work, what your ideal position would be, and what kind of company you want to work for. For instance, you may decide that you want to focus your search on freelance work for nonprofit organizations. Knowing what you are looking for is critical in helping you narrow down your search.   
Search for the Right Jobs
Once you know what your ideal job/company looks like, it is important that you take steps to find the right fit for you. Rather than aimlessly applying to any job in your industry, spend time researching companies to find workplaces whose culture, goals, and mission meet what you are looking for. Start your search by looking at jobs at these companies. 
In order to ensure your success during the interview and in your early days on the job, it is important that you only apply to jobs that you are passionate about. Do not apply for jobs merely for the sake of meeting a quota of applications you want to complete each day. You will actually improve your odds of finding the perfect job for you if you take the time to research each position to find out if a job/company meets your expectations. Applying to a small number of select jobs that you are qualified for and passionate about will greatly increase your odds of landing your dream role. 
Build Your Portfolio
Depending on the industry you plan to enter, building a portfolio should be one of the first things you do as part of your job search strategy. Making a portfolio with samples of your work, including links to articles you've written or videos that you've created, screenshots of projects you've completed, or sample reports you have developed can help set you apart from the competition. 
Having a portfolio to submit with your application or bring to an interview allows you to provide hiring managers concrete evidence of your expertise and skills. Furthermore, in some industries (such as graphic design or technical writing), it may be expected that you provide the hiring manager with samples of your work. Developing a portfolio now can save you time later and will ensure that you are prepared should you be offered an interview or if you attend a networking event. 
Customize Your Resume and Cover Letter
While you have likely heard this one before, it is critical that you tailor your resume and cover letter for every job you apply to. While it is easier to simply swap out a company's name in your generic cover letter and continually submit the same cover letter and resume over and over again, this significantly reduces the chances that your application will actually reach a hiring manager. The fact is that many companies now use applicant tracking systems (ATS) to help them filter out qualified candidates and narrow down their applicant pool. This means that if your resume and cover letter do not implement the right keywords, they may never be seen. This is why it is so important that you take the time to customize each application you submit with a tailored cover letter and resume. Thoroughly read the job listing to find out exactly what kind of candidate they are looking for, and rework your application to highlight skills, experience, and accomplishments that will not only help your application to make it past the ATS but also help it stand out when seen by the hiring manager. 
Optimize Your LinkedIn Profile
A key component of ensuring a successful job search in 2021 is making sure that your LinkedIn profile is updated and optimized to highlight your skills, experience, and reputation. More than ever, job recruiters and hiring managers are using LinkedIn to either find candidates or to learn more about applicants that they are considering interviewing. Thusly, if your LinkedIn does not properly highlight your experience — or worse, you don't have a LinkedIn profile — it could put you at a major disadvantage.
It is then important that you fully flesh out your LinkedIn profile by filling out as many sections as possible, and by uploading a professional-looking photo of yourself to your profile. Once you have a polished-looking profile completed, it is important that you continue to maintain it. Update it with your latest skills and achievements, document projects you are working on, and continue to use it as a tool to build your network. Continually optimizing your LinkedIn can be key in helping you land your dream job, so make sure to incorporate it into your job search strategy. 
Bypass HR if Possible
A great way to land your dream role is to try to bypass HR and the traditional hiring process. If there is a particular company that you want to work with, try to find a way to get yourself noticed by someone in the department you'd like to work in, regardless of whether or not they are advertising open positions. 
If you don't have direct connections through friends or colleagues, start by going to conferences, luncheons, and panel discussions (even if remotely) where people who work for this company are in attendance or are speaking. Try to make an introduction or connect on LinkedIn, and once you have established a connection, reach out directly through email.
Outline your interest in the company and why you believe you would be a great fit for their organization, and inquire about who the best person would be to follow up with. Reaching out directly to your desired employer can show your drive and set you apart from the crowd of faceless/digital applicants. Even if they are not actively hiring, they may keep you in mind if a position opens up because you reached out and showed initiative.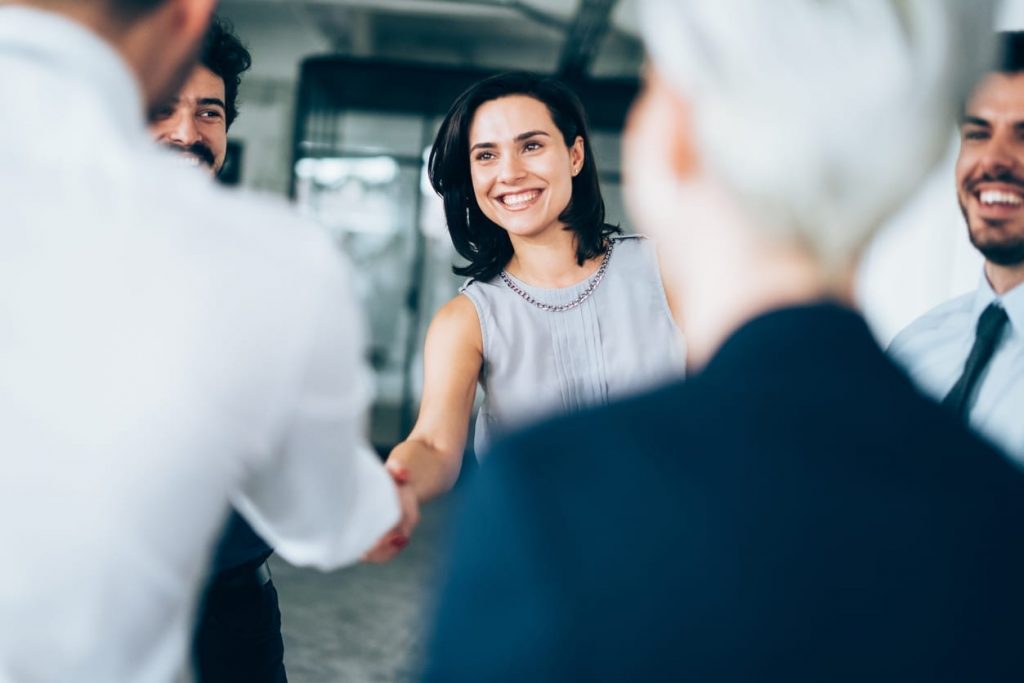 Leverage Your Current Network
As you are likely already aware, success in the job hunt is often about who you know. While forming connections and networking can be a critical component in helping you secure your dream job, it is important that you do not overlook your current connections. During the job hunt, try to leverage your current network to see if anyone in your group of friends, coworkers, or former classmates have any connections who could act as a referrer. In particular, social media can be helpful in allowing you to reconnect with old colleagues who may be able to make introductions that could prove pivotal in your job search. 
Prepare for Interviews Early On
Of course, a key part of the job search process that many people overlook is making sure that you are actually ready for the interview. The fact is that you can land an interview at any time, which is why you need to be prepared for one the moment you start applying to jobs. Make sure that you take the time to educate yourself on all of the resources available to help you conquer the interview process. Brush up on your interview skills by preparing answers to common questions, and set up mock interviews with friends or colleagues to ensure that you are prepared. Don't forget to follow up with a thank-you note after every interview, as candidates who follow up are much more likely to be hired than those who don't.  
Use The Right Job Boards
Finally, if you want to give yourself the best chances of landing your dream job, it is important that you look in the right place for job openings. While there are countless job boards available where you can easily find hundreds of job postings in your industry, using the wrong one could make it difficult to find the job you are looking for. At Lensa.com, we make it easy for applicants to find their dream job by allowing them to create job alerts, search by area, and by giving them resources to stay informed about the latest hiring trends. If you are looking to make a career change, contact us to find out how we can help you find your dream job.