Searching for a new job can be challenging, even in ideal circumstances. And we can all agree that the last few years have been far from ideal. Pandemic, anyone?
But, if you're searching for jobs in Houston, Texas, you might have cause for celebration. As the dust settles in the wake of the Covid-19 pandemic, Houston's job market is indeed thriving once again.
Jobs in Houston: Is Now the Right Time?
Recent employment trends in Houston – including the bounce-back from Covid-19 – have revealed the city's resilience. And despite the difficulties of the last few years, Houston remains an economical hot spot due to factors like affordability, access to high-quality healthcare, and an increasingly diverse job market (say hello to high-tech industries!).
The takeaway? Now is an excellent time to look for jobs in Houston. And as always, we're here with insightful resources to aid in your search. In this article, we'll step back to look at the big picture – starting with how Houston's job market has recovered from Covid-19. Next, we'll cover the city's current job trends and employment stats, followed by a look at Houston's 5 highest-paying jobs right now. Finally, we'll wrap up with the city's job outlook moving forward.
Ready for all the news you need for a successful job search in Houston? Keep reading to learn more.
The Pandemic Effect
Like countless other cities, Houston took quite a hit from the Covid-19 pandemic. During March and April of 2020, metro-area job losses exceeded 360,000 – the equivalent of 1 in 9 jobs in the region. Industries hit hardest included restaurants and bars (100,000 jobs lost), retail (40,000 jobs lost), and health care (nearly 38,000 jobs lost).
These losses were all the more devastating because of Houston's robust position prior to the pandemic. Indeed, the area had recently recovered from the 2015 fracking bust with strong job growth in non-energy sectors, and – by 2019 – ranked as the nation's seventh-largest metro economy.
And then 2020 – and Covid-19 – brought what one local expert called, "the worst year on record for Houston's economy."  The job losses mentioned above were accompanied by an unemployment rate that peaked at 14% in April of 2020 – and then settled at 8% by December of that year. This put unemployment at more than double the rate of December 2019. And with that, one famous line took on a whole new meaning: "Houston, we have a problem."
Bouncing Back after the Downturn
Now, Houston has once again proven its resilience.
As of April 2022, metro area employment had finally returned to pre-pandemic levels. In fact, of the 20 most populous American metro areas, only seven have recovered all Covid-related job losses – and Houston is one of them. In April, that put local employment at 3,198,300 – or 6,100 jobs over February 2020 levels.
Moreover, Houston's April 2022 unemployment rate of 4.1% is down significantly from the aforementioned peak of 14.3% in April 2020. And claims for unemployment insurance have actually fallen below pre-pandemic levels in today's tight labor market.
A Caveat
Of course, it can't be all sunshine and rainbows when it comes to the job market. While the sectors of health care, retail, and restaurants/bars have fully recovered, the bounce-back has remained uneven in other industries. Included among the sectors with strides to make are hotels, construction, manufacturing, and energy – all major aspects of Houston's economy.
But there's still plenty of reason to be optimistic about Houston's future. The metro area is forecasted to add at least 75,000 jobs in 2022, which would put it on a path of continued growth. And there are many great job opportunities currently available. So, which careers have the best outlook in Houston in 2022 and beyond?
Read on for insights into Houston's five highest-paying jobs – as well as other sectors that are hot for hiring right now.
5 Highest-Paying Jobs in Houston
Lensa researched employment data from the U.S. Bureau of Labor Statistics to compile this list of the five highest-paying jobs in Houston through May of 2021. You'll notice that it's healthcare-heavy, but don't worry – plenty of other industries and jobs are flourishing in Houston, too.
The top five, according to our data:
Careers in the medical field are virtually recession-proof and always in demand. And given the aging American population and the rise in cardiovascular disease, hypertension, and other issues? It's safe to say the demand for cardiologists is at an all-time high. Additionally, the heart-related side effects of Covid-19 have reinforced this specialty's importance even more over the last few years.
A bonus? With heightened demand comes higher pay. Let's not forget that the road to a white coat is a demanding, expensive, and years-long endeavor – but if you're up to the challenge, you'll reap the rewards.
Annual Mean Wage (Houston): $356,480
Annual Mean Wage (Nationwide): $353,970
Dermatology is a popular specialty among medical school graduates, thanks to its reputation for reasonable work hours and comparatively low stress. Additionally, every day is different for dermatologists. After all, they care for a diverse field of patients with differing needs and levels of acuity.
So, with all of these perks? It's no wonder that dermatology is a highly competitive field within the medical community. But if you've got the skills, knowledge, training, and interest, it can be a wonderful career option.
Annual Mean Wage (Houston): $304,460
Annual Mean Wage (Nationwide): $302,740
Chief executives atop a list of highest-paying jobs? Nothing new here. But the responsibilities, the approach, and the day-to-day role of a chief executive can vary greatly depending on the type of company they run. Some are more hands-on than others, and some may focus more on people than the bottom line (and vice versa, of course).
Regardless, nearly all chief executives bear some responsibility for creating an overall business strategy and developing key policies to meet company goals and foster growth. They also work to plan, direct, and coordinate operational activities.
In many cases, chief executives start as founders or co-founders of the companies they run. And, guess what? Houston is a hot spot to be an entrepreneur, especially given the rise of tech in the region. So, don't be afraid to dream big – you never know where you might land.
Annual Mean Wage (Houston): $298,960
Annual Mean Wage (Nationwide): $213,020
Since Houston is home to several nationally-ranked hospitals, it should come as no surprise that various medical specialties dominate Houston's list of highest-paying jobs. And if you're a pediatrician – or a medical school graduate considering pediatrics? The news gets even better.
First of all, Houston's very own Texas Children's Hospital ranks nationally in 10 pediatric specialties. In fact, it ranked #2 on the U.S. News & World Report's 2022-2023 Honor Roll for Best Children's Hospitals. Additionally, the average annual salary for pediatricians in Houston is significantly higher than the national average. So, Houston comes with the promise of a rewarding life for pediatricians on multiple fronts.  
Annual Mean Wage (Houston): $291,940
Annual Mean Wage (Nationwide): $198,420
Did you know that the Houston area is home to more than 85 hospitals? With such a large medical community, health care professionals make up nearly 7% of the Houston-area workforce. And general internal medicine physicians are often considered – along with other primary care providers – to be the backbone of that medical system.
Why does this matter? Because it means that they're always in demand. And with more and more medical students choosing to work in specialty fields, primary care practitioners are needed more than ever. So, between high demand and competitive salaries, Houston offers an appealing destination for internists.
Annual Mean Wage (Houston): $289,390
Annual Mean Wage (Nationwide): $242,190
Jobs in Houston: Current Trends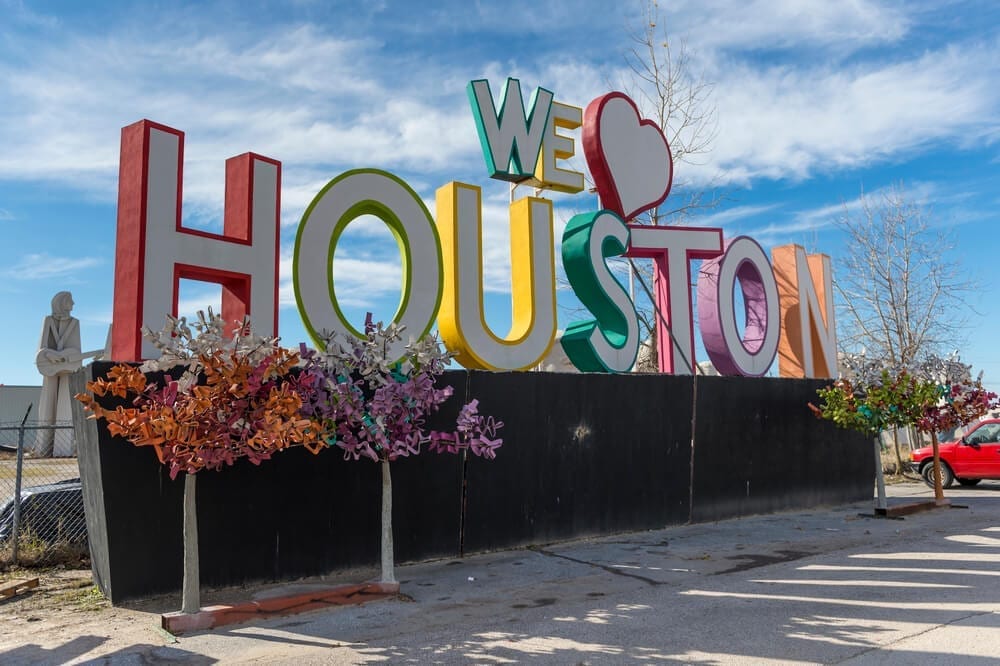 According to the Greater Houston Partnership, the Houston job market continues to grow. Indeed, the Houston metro area added more than 31,000 jobs during June 2022 – making it the second-best June on record for the region.
Sectors adding the most jobs included:
Professional and business services (added 8,700 jobs)
Restaurants and bars (added 6,500 jobs)
Administrative support services (added 5,400 jobs)
So, rest assured – there are many growing industries and career options in Houston outside of health care. And experts remain optimistic that Houston will continue to demonstrate resilience as it completes its pandemic recovery.
Houston's Job Outlook for 2023
Before we know it, 2023 will be upon us. And for all of the optimism shown by economists and other experts, predictions about the future are just that – predictions. So, what will really happen to Houston's job market heading into 2023?
There are still a lot of unknowns that could impact our national and local economies in the near future. For example, will another rogue variant of Covid-19 strike as we enter cold and flu season? Will social unrest continue to gain steam around the country? And what of the inflation, worker shortages, and supply chain issues that persist nationwide?
We don't have answers to these questions right now. But we can counter with some positive signs for the Houston market. First, metro Houston employment returned to pre-pandemic levels much faster than projected – and job growth has continued to outpace expectations since.
Additionally, five predictable factors are expected to drive job growth in Houston over the next year:
The ongoing U.S. expansion
Robust global trade
Energy consumption returning to pre-crisis levels
Pent-up consumer demand
Local population growth
With these factors on their side, Houston residents just might have a job market worth celebrating for quite a while.
The options for online job boards can seem endless. But how many of them can really help you find – and land – the job of your dreams?
At Lensa, we use AI-based technology to help you find the perfect match. Even better?  We'll send you personalized listings for jobs in Houston – and across the globe. And our blog is filled with timely and relevant tips and advice for job seekers of all varieties.
Visit Lensa.com to start your search today!