As in many other American cities, jobs in Riverside, California, took quite a hit during the early part of the Covid-19 crisis. Indeed, many businesses were forced to shut down and unemployment soared. But tides have turned, and Riverside has enjoyed a smoother economic recovery than some neighboring areas.
Below, we share key insights into landing a job in Riverside, as well as five of the top jobs hiring in the area. But first, let's take a brief look at the current state of the job market in Riverside.
Jobs in Riverside: The Current State of Things
We may not ever be able to say that coronavirus is fully in the rearview mirror. But in Riverside, folks are adjusting to a new normal — and so is the job market.
As of March 2022, the Inland Empire region to which Riverside belongs had added back all jobs lost during the Covid-19 crisis — and then some. In fact, instead of declining as initially projected, employment has actually increased by 0.9% since February 2020. This is excellent news for job seekers looking to enter the job market or make a career pivot.
Ready to start your search for jobs in Riverside? Keep reading for 5 tips to maximize success in your hunt.
Landing Jobs in Riverside: 5 Tips to Maximize Success
Searching for a job can often feel like a job of its own! So, read on for 5 easy tips to maximize success on your mission to find new opportunities in Riverside.
Use Your Downtime to Clean Up & Brush Up
These days, potential employers won't hesitate to check your social platforms to determine if you're the "right fit" for the position. They'll also be looking to uncover any concerning information about you. So, perhaps unsurprisingly, job applicants commonly scrub any photos and content they prefer recruiters not to see. By using your downtime to clean up your social media accounts, you can ensure that you're presenting yourself in the best possible light during the application process.
Your downtime is also the best time to buckle down on your job search. Get started by identifying which hiring companies in Riverside match your interests and qualifications. Then, when you've found a few companies that interest you, you can do more in-depth research. Make sure to get familiar with their work, priorities, values, and company culture.
Once you've maxed out on research, it's time to shift gears and start using your free time to polish your resume. Remember all that research you did? Well, it should prove useful in personalizing your resume and tailoring it to different positions. And don't forget to write a cover letter for each job to which you apply, too!
Still have time to spare? We recommend reaching out to prior employers and gathering as many references as you can. The effort will pay off and increase your chances of landing the job — we promise.
Laser-Focus Your Attention on Industries in Need
Fortunately for your job search, all of the information you need is within reach on the internet. Case in point: you can easily find out which industries and companies urgently need employees. You just need to search for open positions in Riverside, and a list will pop up with any companies looking to hire. 
Healthcare, accounting, and tech businesses are almost always hiring. In addition, warehouse jobs are continually up for grabs. If you concentrate your search within industries like these, your chances of landing a job will skyrocket. Above all else, focus on positions that match your skills and experience. After all, sending your resume to every company imaginable won't do you any good if you don't qualify for the job or if they're not currently hiring.
If you want to avoid wasting your time — and theirs — do your research and direct your job hunt accordingly.
Prepare for the Interview like a Pro
An interview is an interview — or is it?
Given the rise in remote work during the Covid-19 pandemic, there's a good chance that some portion of your job interviews will be virtual. Indeed, according to a recent survey, 82 percent of employers now use virtual interviews in some capacity. And 93 percent of those companies plan to continue using them in the post-pandemic job market. But this shouldn't stop you from crushing it! After all, your preparation will be largely the same regardless of the interview format.
First things first: before the interview date, allow yourself plenty of time to rehearse. Ask a trusted friend or relative to role-play with you to practice your answers and tone and boost your confidence. Because here's the thing: no matter where (or how) your interview takes place, you must be well-prepared to answer any questions confidently.
Another pro prep move? Research the company you're applying to join and come up with a few specific ideas to solve an issue they're facing.
Finally, know your value. How will hiring you benefit the business and make it more profitable? Why do you think you're the right fit for the position, and what draws you to the company? These are commonly asked questions that carry high point value, so you'll want to be sure of your answers.
Consider Recent Challenges
Along with the rest of us, the job market is finally settling into a "new normal" in the wake of the Covid-19 pandemic. And you'll need to think outside the box to find your place within it.
Most businesses are looking for standout candidates who can help them come back stronger after a challenging few years. So, you'll want to find ways to show potential employers that you keep calm in stressful situations and weather storms with ease. Have some examples on hand that demonstrate your prior experience with navigating challenges and overcoming defeat.
You may also want to consider bolstering your resume with a new skill or certification that will give you an edge. For example, can you think of any issues that businesses or community leaders in Riverside have recently faced? Focus your attention on skills that can help curb those problems.
Remember to Follow Up
The world — and the job market — are still in post-pandemic recovery mode. The Human Resources departments at local companies may be so overwhelmed with tasks that they can't get back to you as quickly as they otherwise would.
You should take the initiative to follow up if you don't get a response within a reasonable period of time. But don't overdo it. After all, the company could be backed up with applications or in the midst of recruitment delays. And checking in more than twice runs the risk of ruffling recruiters' feathers — and creating an image of desperation for yourself. Not a good look.
Jobs in Riverside: 5 Promising Positions
Now that you have the skills to apply, what kinds of jobs should be looking for? Below, we share five of the top jobs currently recruiting in Riverside.
As an essential part of a company's warehouse operations, a warehouse loader keeps shipping operations efficient and safe. This involves preparing shipments and receiving incoming goods by loading and unloading stock from trucks and shipping containers. Warehouse loaders also inspect goods for quality and assist with other duties as needed.
Most employers prefer to hire candidates with a high school diploma or the equivalent, and some require prior warehouse experience. On-the-job training is provided for specific job-related skills.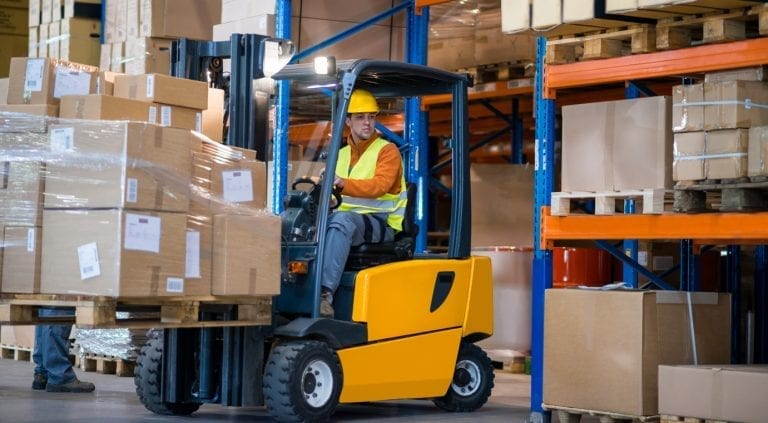 A clinic administrator supervises and manages all day-to-day activities relating to patients and staff in healthcare facilities. In addition to overseeing general operations, administrators also coordinate care and manage the budget, among other things.
To qualify for a job as a clinic administrator, you'll need a minimum of a bachelor's degree in healthcare administration or business administration. Additionally, most employers prefer at least three years of hands-on experience in patient care. Other qualifications typically include strong verbal and written communication skills and valid CPR and First Aid certifications.
Truck checkers, sometimes called warehouse checkers, are responsible for managing warehouse and shipment inventory. They also count and keep track of the products in a truck to ensure shipping accuracy and product stability. 
To qualify for a job as a truck checker, you'll need a high school diploma or the equivalent. You'll also want to be familiar with inputting computer data. You'll receive on-the-job training for any other needed skills.
Data entry clerks work to input large amounts of data from various sources into company databases. They are also responsible for managing customer accounts, organizing and maintaining records, receiving and processing payments, and coordinating communication between clients and staff. Additionally, data entry clerks often perform general office duties, like answering the phone.
Ideal candidates will have a high school diploma or the equivalent, excellent communication skills, and the ability to handle complex tasks with a quick turnaround. Prior data entry experience is usually a plus, but sometimes a requirement.
Medical records assistants are responsible for creating, organizing, maintaining, and storing patient records at various types of healthcare facilities.
Most employers prefer that candidates have a minimum of an associate's degree or similar in health information technology or a related health field. Ideal applicants also have at least 1-2 years of experience in a medical office setting. Additional certifications, such as Certified Electronic Health Records Specialist (CEHRS), are typically optional but can offer a competitive edge. 
Final Thoughts
Finding a new job is never easy, but we're here to help with pro tips and proven strategies. Check out Lensa.com to learn more about available jobs in Riverside, CA — and start your search today!