The White House released a set of guidelines designed to slow the spread of the infectious Coronavirus over the next 15 days. The key takeaway from the document is to self-isolate and practice good hygiene. It also created the birth of a trending new term: social distancing.
Social Distancing: What Is It?
Social distancing is a phrase that many of us had never heard of until a few weeks ago, but it's now our best tool against the spread and damage of the infectious virus COVID-19. Simply put, social distancing is the practice of avoiding close contact with others in an effort to avoid picking up the virus or passing it on to others. 
Social distancing is a key part of "flattening the curve," another new term in our developing coronavirus lexicon. Flattening the curve describes spreading the volume of infections over a period of time, in an effort to reduce the load on our health systems. This graphic illustration from the Centre for Disease Control (CDC) clearly explains how our collective social distancing efforts will make a big impact.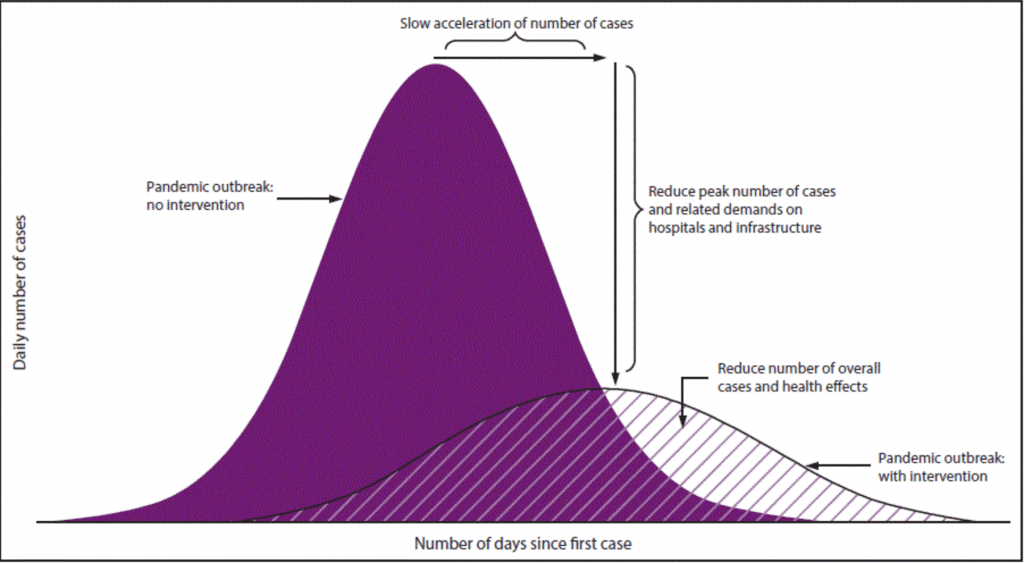 Social distancing requires you to limit personal contact to as few people as possible. Work from home, don't go to the gym and spend as little time as possible in supermarkets. Social isolation is just as much about you not passing the infection, on as it is about protecting your own personal health.
A quick guide to social distancing:
Stay home when you can

If you go out; stay 1-2 m apart from each other if possible

No handshakes, high fives or kisses. Instead, adopt the

fistbump

or foot shake

Wash your hands well when returning home

Keep in touch with your community online

Provide support for vulnerable and precarious people in your neighborhood 

 
Social Distancing: How it Affects You
The experience of social distancing is going to affect us all differently. For some of us, like me, who already work remotely, the Corona chaos is barely making a dent in our daily work habits. But for many people around the world, the shift from workplace to self-isolation is dramatic.
If you are a jobseeker, things are going to feel especially uncertain. Many companies are delaying hiring until the period of self-isolation is over, others are forging ahead in ad-hoc ways. Jobseekers should expect some pretty unorthodox hiring measures coming up and be ready to lean into them. First, forget the handshake. Interviews will almost exclusively be done online. Prepare for your online interview the same way you would for an in-person interview, and then some. You need to research the company, prepare your answers to common behavioral questions, and get your space ready. 
Set up a quiet, calm area with good lighting and a neutral background. 

Check your tech – test your microphone and camera.

Do a test call with a friend to get feedback on your own voice volume.



In addition to your regular questions about work culture and responsibilities, ask about the company's plans for dealing with the coronavirus. Express your flexibility in adapting to these unusual times, and show your gratitude for the opportunity to interview despite the circumstances. 
Social distancing and self-isolation is going to be a great time for self-reflection. Try dedicating your first week of saved commuting time to thinking about your career goals. Start to define a set of career goals that will create a path towards your ultimate career achievements. If these goals make it clear your current company isn't going to support you. Dust off that resume and use your extra time to start browsing job boards.
Managing the unexpected challenges of your entire company going online, coupled with the need for several immediate hires, isn't going to be easy. But it also isn't forever. Self-isolation helped slow the spread of the virus in China, and it will do the same in the U.S. and Europe. During this particularly hectic time, remember that you are not alone, that you have the skills to get this done, and that this time will pass. Embrace this crazy period as a way to test remote working culture, embrace fully online hiring processes, and expand alternative communication methods. Not everything will work the first time, but your team and company understand these are extraordinary times.
Be agile – if things you planned aren't working, change them. You are writing the rulebook

Be transparent with your team. Everyone understands this is a strange time. Open and clear communication will be comforting to everyone.

Gather feedback. Continually check-in to find out what can be improved and how your team is experiencing this time.
Use the right tools. Explore how matching platforms can assist you in finding qualified candidates quickly and easily.
If you are a freelancer, casual worker, or reliant on the gig-economy, we feel you! This is an incredibly stressful moment. If possible, speak to your employers about the possibility of emergency pay and sick leave options. Emergency relief funds have been set up across the globe for artists, freelancers, and cleaners. You deserve this support.
Discuss payment options with your employer

Find fellow freelancers to

pool resources

and knowledge

Go online – find services you can offer in the digital world
No matter whether you are coding from your lounge room or offering your coaching services from your balcony, check out our tips for working from home to make the most of it.  Most importantly, drinking clean water, exercising daily and eating a balanced diet along with minimizing stress and anxiety is the key to boosting your immunity.
The world feels incredibly scary and uncertain. Many governments are scrambling to assemble bailout and stimulus packages to push back against a seemingly inevitable recession. If you are on the verge of graduating it might seem like a hopeless time to enter the job market, but don't fear. There are plenty of "recession-proof" industries to seek work. Look to pivot your degree into
green energy and other climate related service providers

health care, especially psychology and aged assistance

agriculture, with a focus on city self sufficiency
A recession can also provide good conditions for entrepreneurship, such as low interest rates and high unemployment. Band together with your fellow graduates to make the most of a tough time.
No matter the size of your business the Coronavirus crisis will have an impact. For small to medium size businesses there may be assistance from your government in the form of tax breaks, delays in loan repayments and salary payments. Get connected with your local business association to get all the up to date information. Moving your business online through the current period of self-isolation might seem daunting, but it could be a huge new opportunity for a more digital presence post-Corona. Be honest and transparent with both your employees and customers to build a solid network that will help see you through the upcoming recession. 
Keep Calm and Wash Your Hands
Finally, in these scary and ever-changing times, make it your priority to listen well to both yourself and others, act with generosity and kindness, and put compassion first.
Self-isolation can feel weird and scary, check in with your friends, family, and colleagues regularly. Use this time physically apart from each other to grow closer emotionally. 
The coronavirus pandemic is a critical and rapidly evolving situation. The way we handle the uncertainty will be a reflection of our character. 
Stay safe out there. Take care of your communities, and keep washing those hands!