Once you've educated yourself on all the resources available to help you bring your A-game to the job application process, helping you to conquer the interview and land your dream job, it's time to start getting ready for your first day on the job. 
While getting a new job can be an exciting opportunity that represents a step toward your ultimate career goals, starting at a new company and building your reputation from the ground up can be a frightening prospect for many people. Whether you are fresh out of college or you are making a career move for the first time in a few years, putting yourself out there can be intimidating. 
If you're starting a new job, taking the time to plan and set goals for yourself will help ensure that you are prepared to put your best foot forward. However, while it is important to prepare for your first day on the job, you should also make an outline for yourself of steps that you can take over the course of your first week and first month in your new role in order to help you succeed and thrive.
To help you make an impact in the first 30 days at your new company, here are a few steps you can take to ensure your success in the coming month.  
Make Sure You Are Prepared
One of the most important things you can do to ensure things go smoothly at your new job is to start early and make preparations for your first day. Familiarize yourself with where your office will be, learn your commute, and determine your new schedule. Taking these precautions can help you feel less overwhelmed as you start your new role. The fact is that the more confident and prepared you feel when you walk into work, the more likely you will succeed. A few things that you should do to prepare for your first day include:
Completing Any Onboarding: Before you officially start in your new role, make sure that you contact HR to find out if there are any onboarding logistics that you need to take care of. If you will be reporting to HR for a dedicated orientation on your first day, then this may not be necessary. Otherwise, doing everything that you can now to complete the onboarding process, such as filling out paperwork, gaining access to the company network, and completing any necessary training will ensure that everything is ready for your first day. Doing these things ahead of time can help you feel more prepared and confident knowing that you can jump right into your job when you arrive for the first time.   
Taking a Tour: For many people, taking a tour of the company before they start can help reduce feelings of anxiety on the first day. Having someone show you around can help you get a feel for the building so that you do not get overwhelmed or lost on your first day. Make sure that you find out where you are supposed to park and where important places such as conference rooms and managers' offices are. Familiarize yourself with common areas such as the bathroom and break room. This will help you walk into the building with a sense of confidence and certainty once you actually start your job.
Asking for Introductions: One of the most overwhelming aspects of starting a new job is the fact that you will not know anyone at first. Not only can this leave you feeling intimidated, but it can also be frustrating if you need to ask for advice or work with a specific individual and you don't know what anyone's names are or where their office is located. You should then make a point of asking your manager to give you introductions either during your tour of the facility or early during your first day of work. 
Know Your Limits
In your first weeks on the job, it's important that you learn your limits and set boundaries for yourself in order to ensure your future success. You do not want to form bad habits in your first 30 days on the job that could end up negatively impacting your ability to succeed in your new role, or that could lead to you feeling burnt out. As you learn your limits and what your place is at the company, make sure that you:  
Don't Overwhelm Yourself: When starting at a new job, it's common for people to overcommit themselves. While your tendency may be to take on every new task and project that comes your way, it is important that you do not stretch yourself too thin. Doing so could not only affect the quality of your work but also lead your boss to assume that this is a regular pace for you. This could quickly become problematic as being overworked can lead to burnout. Remember, your new manager does not know your pace yet, and it is important to let them know if you are being given too many assignments or cannot meet unreasonably tight deadlines. Your first month is all about learning time management in your new role and determining realistic limits for yourself. 
But Offer to Help: That being said, your first few weeks on the job are an opportunity to show your worth, and you do not want to appear as if you are slacking or not taking your position seriously. If you find yourself with some downtime during the day, consider asking your manager for additional assignments, or offer to help your fellow team members. Don't sit around waiting for others to find projects for you; by volunteering your support when you have extra time, you will be showing your initiative, which could help you build rapport with your manager and team.
Set Healthy Boundaries: Ultimately, your first few weeks at a new job are about learning to manage your time and figuring out a realistic assignment load that you can maintain in the long run. The thing that can be difficult for many people to learn is the fact that it is okay to set boundaries for yourself. Remember that you have the right to say no and set limits on how much you are willing to work if your boss wants you to take on additional hours or work weekends in order to finish additional assignments. If you commit to overworking yourself now, this could set a precedent that you are willing to be on call all the time. It's important that you maintain a healthy work-life balance. Learning to say "no" will either show management what your limits are, or it could help you to learn early that a job is not a good fit, allowing you to move on before you waste your time and energy on a job that does not meet your needs. 
Form Connections
In order to ensure your success at a new company, it is critical that you take the time to form connections. Talking to your coworkers, asking your team members questions, checking in with your manager frequently, and learning company culture are all critical in helping you thrive in your new role.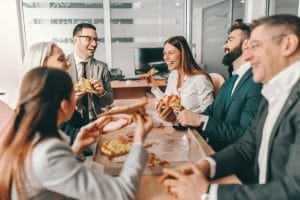 During your first 30 days on the job, you should take the following steps to ensure you build connections at the company. 
Check In With Your Manager Frequently

: Until your manager specifies a schedule for standing meetings, do not be afraid to check in with them frequently. Check in after completing an assignment so that you can get immediate feedback that could be implemented in future projects. In the beginning, you should try to make a point of meeting with your manager at least twice per week. This will show initiative and a desire to improve and excel in your new role. 
Ask Questions

: One of the most important things that you need to understand when starting a new job is that it is okay to ask questions. In fact, your coworkers will likely expect you to have questions and will be more than willing to offer support. Do not make the mistake of being afraid to speak up, as this can cause you to fall behind if you find yourself uncertain about processes and operating procedures. The fact is that starting a new job is confusing, and you will not be expected to know everything right away. Asking questions and taking detailed notes of everything you learn will help you get up to speed quickly and will ensure your success at work. 
Socialize With Your Colleagues

: While this can be intimidating, it is critical that you begin to form connections with your colleagues as soon as possible after starting your new job. Make sure to take every opportunity to socialize with your coworkers whether it's at an informal lunch, after-work happy hour, or simple chat by the water cooler. Socializing every chance you get can be critical in helping you learn the company's culture, hierarchy, and unwritten rules. Additionally, this will also help you build connections that can be useful in the future when you need support on projects. 
While starting at a new company can feel intimidating, following these tips will not only allow you to survive the first 30 days but also help you succeed. Check out the Insights blog for more advice on landing your dream role and thriving in your new company.