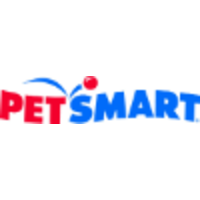 PetSmart
Never miss new job openings
Team
Professional experience
Professional Growth
How many years of experience do PetSmart employees have before joining?
Where they've worked
Where did PetSmart employees work before joining?
Professional Growth
What industries did PetSmart employees work in previously?
Professional Growth
Where did PetSmart employees work before joining?
Educational background
Educational background
What did employees at PetSmart study?
Top educational institutions
Where did employees at PetSmart study?
Arizona State University-Tempe
Glendale Community College
Northern Arizona University
University of Phoenix-Utah
Never miss new job openings
Employee data
Professional Growth
How long do people stay in a role at PetSmart?
Culture & Values
How does PetSmart rank for age & gender diversity?
Career advancement
Professional Growth
How does PetSmart rank for career advancement?
Professional Growth
What companies do PetSmart employees go on to work at?
Never miss new job openings
How Do I Match This Company?
Are you and
PetSmart
a perfect pairing? Let's explore your common touchpoints.
Summary
Company information
History
PetSmart, Inc. is the largest specialty pet retailer of services and solutions in the US, based on Phoenix, AZ. The company employs 56,000+ associates, operates 1,650+ retail stores in the United States, Canada and Puerto Rico. InSee more
Address
Multiple locations
Industry
Niche Retailers, Veterinary Companies
Website
https://petsmart.com
Departments
What departments PetSmart employees work at?
| | Departments | Ratio |
| --- | --- | --- |
| | other occupation | 30.9% |
| | Animal Trainers & Caretakers | 30.3% |
| | Sales Managers & Supervisors | 11.7% |
| | General and Operations Managers | 9.1% |
| | Cashiers | 7.9% |
| | Administrative - Other | 5.7% |
| | Management - Other | 4.4% |
Similar companies
See what companies are similar to PetSmart
Never miss new job openings
How Do I Match This Company?
Are you and
PetSmart
a perfect pairing? Let's explore your common touchpoints.
Jobs
Never miss new job openings
How Do I Match This Company?
Are you and
PetSmart
a perfect pairing? Let's explore your common touchpoints.
Q&A about PetSmart
Want to know more about

PetSmart

?
Learn what others have to say about PetSmart or join the discussion by contributing a question or an answer.
q:
are my chances high for career advancement at PetSmart?
no, chances of career advancement are medium.
Never miss new job openings
How Do I Match This Company?
Are you and
PetSmart
a perfect pairing? Let's explore your common touchpoints.
Reviews
Have some insight of

PetSmart

?
Get the scoop on what others who have experience with PetSmart think of working there or join the conversation by leaving a review.
Chicago, IL - March 28, 2023
You are NOT promoted based on merit
I was the face of my store for 5 years. I trained many employees who came and went. I was the smile who calmed red-faced, angry customers and had them leave happy. I took a lot of abuse from customers and managers alike with a smile. I went above and beyond my job description because I'm a team player. I crushed sales quotas. I never got promoted because I would request Christmas Eve off. WOW.
---
Pros and Cons
Coworkers can be nice and family-like
Penitas, TX - October 10, 2022
I work in the dog hotel and I played with dogs but I love being a cashier and helping people. It nice to be up front I enjoyed being a cashier more than being in the dog hotel.
---
Pros and Cons
Very nice people to work with and very clean
Groveport, OH - June 24, 2022
Great place to work if you enjoy physical work , safe & clean environment. Requires high attention to detail.
---
Pros and Cons
Advancement opportunities
Webster, NY - February 11, 2022
Fast-paced, fun and supportive work environment.
I absolutely loved being a dog groomer. After seven years of handling many large dogs, I began to feel the wear. If I were bionic, I would have continued this role for a very long time. The customers made the experience fun and I appreciated their trust in me with their fur-babies.
---
Pros and Cons
friendly staff, sales commission for grooming
Working weekends is expected. It's not a con but an opportunity to gain cliental.
Bethel, PA - February 3, 2022
Speed is all that count.s
I know too many people that have left there or were let go not because they couldn't do the work but couldn't do it expected fast enough. They have to hire people of a certain age knowing that what is going to be expected is not obtainable. They also don't look at the strength of the people they hire or promote just how fast they work. I never missed a day for weather or anything but people who took off all the time but could work fast were promoted over me.
---
Pros and Cons
but you earn every penny you make
Phoenix, AZ - January 11, 2022
I've been analyzing warehouse computer applications and have developed computer programs to have the warehouse associates easily scan products on their handheld devices.
---
Pros and Cons
medical and dental and paid leave benefits
lack of communication with management
I loved this job but you have to be a great salesman to sell the puppy/dog classes. I was a bather when not training so i got to go back and forth. Customers in general were animal people and out really was fun. On your feet the whole time so it's not a job for someone who needs to sit. Pay is ok but not great. Not good for anyone supporting. Family though!
---
Pros and Cons
Lots of animals, great people
The main one for me was working weekends.
San Angelo, TX - July 25, 2021
I loved working at PetSmart. Everyone was so nice and would help each other during times of need like a family.
Gilbert, AZ - May 22, 2021
you are on your own in your department, no help anybody
I had a lady with a 40lb puppy pit bull and a lady with a 5lb chihuahua, the little guy wanted to say hi but I noticed the bigger dog, body going down, ears back and the dogs body stiffened. I told both lady's to pull back on the leashes because the bigger dog was going to attack, neither one did, so I pulled on the leash right when the bigger dog went for the smaller dog. Sooo the lady with the pit e-mailed my boss that I grabbed her dog's leash and she didn't like it. So I told the story to my boss and he didn't like what I did, so he wrote me up. Petsmart they say is all about the animals. well when you try to help ANY of the pet parents out answering their questions and they don't like the answer, they e-mail corp then to my boss who doesn't care if you helped them, the bosses get extra pay if they don't have any complaints for the month. So you get an e-mail complaint you get written up and doesn't matter if it wasn't your fault. 5 years of corp bullcrap!!!
---
Pros and Cons
you get to see the cutest animals come in
Phoenix, AZ - March 15, 2021
I worked in Warehouse and pulled orders for stores. Packed stacked and rapped pallets. Operated electric pallet rider(jack)(double).. Product stacked 8ft high. Operated forklift. Was a great job. 1st class company and management team. The group(team) I work with made job even better.
---
Pros and Cons
Pay, Overtime, Benefits!!
I enjoyed the work. No cons for me.
Never miss new job openings
Disclaimer
LENSA generates certain information provided on this website by compiling and analyzing publicly available data and data from employees/former employees. All company names are the registered trademarks of their original owners. The use of any trade name or trademark does not imply any association with the third-party company. None of the information provided is endorsed in any way by any of the companies mentioned. We do not guarantee the accuracy, currency, or suitability of this information (including regarding demographics or salary estimate) and you are responsible for how you use it. ALL INFORMATION IS PROVIDED "AS IS" AND "WITH ALL FAULTS". We are not responsible for nor endorse third party content on our website. If you notice any inaccurate information or information you think is proprietary you can email us at

[email protected]

. See our Terms and Conditions and Community Guidelines for more information.