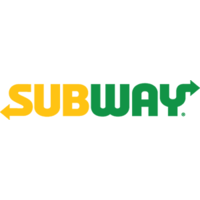 Subway
Never miss new job openings
Team
Professional experience
Years of experience
How many years of experience do Subway employees have before joining?
Where they've worked
Where did Subway employees work before joining?
Industry background
What industries did Subway employees work in previously?
Past employers' size
Which size companies did people at Subway work at previously?
Educational background
Educational background
What did employees at Subway study?
Top educational institutions
Where did employees at Subway study?
Florida International University
Southern Connecticut State University
University of Connecticut
University of Phoenix-Utah
Never miss new job openings
Employee data
Time employed
How long do employees stay at Subway?
Age diversity
How does Subway rank for age diversity?
Gender diversity
How does Subway rank for gender diversity?
| | Gender diversity | Ratio |
| --- | --- | --- |
| | female | 53.1% |
| | male | 46.9% |
Top roles
What are the top roles at Subway?
Career advancement
Career advancement
How does Subway rank for career advancement?
| Years in position | Percentage who advanced |
| --- | --- |
| <1 | 16.8% |
| 1 | 32.7% |
| 2 | 15.9% |
| 3 | 9.7% |
| 4+ | 24.8% |
Future employers
What companies do Subway employees go on to work at?
Never miss new job openings
How Do I Match This Company?
Are you and
Subway
a perfect pairing? Let's explore your common touchpoints.
Summary
Company information
History
Subway is a restaurant franchise, offering featured submarine sandwiches and salads. The company's international headquarters are in Milford, CT, and has 41,500+ locations in more than 100 countries in the world, supported by fiveSee more
Address
Multiple locations
Industry
Full-Service Restaurants, Limited-Service Restaurants
Website
https://subway.com
Departments
What departments Subway employees work at?
| | Departments | Ratio |
| --- | --- | --- |
| | Cooks / Food Preparation | 39.9% |
| | other occupation | 17.7% |
| | General and Operations Managers | 16.6% |
| | Management - Other | 11.9% |
| | Sales / Retail | 8.4% |
| | Computer / IT | 5.5% |
Similar companies
See what companies are similar to Subway
Never miss new job openings
How Do I Match This Company?
Are you and
Subway
a perfect pairing? Let's explore your common touchpoints.
Jobs
Never miss new job openings
How Do I Match This Company?
Are you and
Subway
a perfect pairing? Let's explore your common touchpoints.
Q&A about Subway
Want to know more about

Subway

?
Learn what others have to say about Subway or join the discussion by contributing a question or an answer.
q:
What size of companies did Subway employees used to work for?
Most worked for large businesses before.
Never miss new job openings
How Do I Match This Company?
Are you and
Subway
a perfect pairing? Let's explore your common touchpoints.
Reviews
Have some insight of

Subway

?
Get the scoop on what others who have experience with Subway think of working there or join the conversation by leaving a review.
Sandwich Artist
Billings, MT - March 9, 2021
really fun i would work there again.
when i work for subway's i always have fun.the custermers make it fun,i would work for them again if i can work at the ones i missoula,mt.
---
Pros and Cons
the people who i work with at subway make it fun.
can't say nothing bad about the place.
Franchisee
Honolulu, HI - April 4, 2021
I ran two subway sandwich shops in the food court, the second largest shopping mall in Hawaii. There were over 30 employees at the two locations, and I managed it myself. Running those two places, I was able to buy three houses in Las Vegas, and later sold those houses and then buy a large sandwich inside a building in front of the Nasa Headquarters in Washington DC, It's with salad, catering and coffee bars. It was a big and annual sales of over 1.5 million, but Covid 19 made it impossible to do business in DC. From now on, I can run and manage any business related to food through that experience. This is because the owners can benefit, and through the training and management of the staff, how to serve the customers, so that the best for everyone can be managed and operated. If I have a chance, this is my long experience and I can do my best.
Field/Franchise Consultant
New York, NY - May 6, 2021
Company old , outdated. Needs new owners to revamp if not, will linger as is.
Had fun chatting and meeting with small business owners. Got to see places of NY that I never visited before.
---
Pros and Cons
Make friends with the franchisee/staff and your job becomes a social visit.
Low paying. No advancement. Repetitive. No creativity. Listen to complaints.
Sandwich Artist
May 15, 2021
Productive awesome crew very clean
I would prep in the morning and make sure everyone had what they needed then get on the line take care of customers
---
Pros and Cons
Busy store good staff they work with you
I worked at subway for about 6 months, and the work was horrible, the workers were lazy, and the management was almost non-existant.
Manager
Smithville, MO - June 5, 2021
Not a great place to work if you're looking to grow in the company you work at. You will be stuck at the same level you started at 5 years later.
---
Pros and Cons
Poor management, terrible pay
Crew Member
Silverton, OR - June 22, 2021
Instead of talking to employees about how they can improve, they instead dropped that employees hours to 3 hours a week until they quit. I saw this happen with multiple employees. They don't care about the night crew and only listen to what the morning crew says. Doesn't give raises and when they do, your salary doesn't go up when minimum wage does. unpredictable hours and unhealthy working environment.
---
Pros and Cons
Free sandwiches, easy walking distance, flexible hours in the evenings
bad communication, disrespectful, rude customers, super hot in there, strict dress code
Sandwich Artist
Portland, OR - June 30, 2021
Truly just one of the worst experiences. I worked there for four months. I was left alone to run a whole store. Work anywhere else you possibly can. Rude customers and lazy coworkers. I was lazy too!
Sandwich Artist
Zelienople, PA - July 5, 2021
This place is like my second family actually my only family ,they showed me i was wanted and loved and there is room to grow with the co. ,i left to pursue astranged relationship with my husband and alrhough they didnt want me to go they let me know i was valued as a employee and appreciated ,they let me know they were there for me ,i miss them ALL greatly
---
Pros and Cons
Everyone backs each other ,a big subway family
I cant think of any con at this co.
Team Member
Covington, GA - July 16, 2021
Low paying, I am a mother of two Children , with plenty of experience, started at 7.25 an hour . Had to work 6-8 (sometimes 12) hour shifts but would only get a few days a week. If the next person for the shift doesn't show, you are most likely going to be made to stay . Even after busting my butt, working hard, showing up on time . I got no rewards , no incentives. Plus , subway is a franchise (individually owned), our owner told us we weren't allowed to sit (not even on lunch break) (which there was no lunch break, you just had to sneak a bite when you could) . She failed to pay me on time, I didn't show up for a day because I had been promised for almost two weeks to receive my pay . Once I received my pay (3 weeks later) , I was fired. She made sure to fire me a day before 3 months so that I couldn't draw unemployment (said this out of her own mouth(the mother). This job was and is still very neglectful to any and all employees working under the same manager as I.
Sandwich Maker
July 20, 2021
Nice friendly environment but to travel to work I was spending more money than what I was making cause it was clean cross town
Asst mgr
Myrtle Beach, SC - July 26, 2021
Very enjoyable..I love to work with people running the cash register cleaning doing paperwork working with my peers
---
Pros and Cons
Im satisfied with everything
Sandwich Artist
Georgetown, TX - September 2, 2021
I got accused of stealing and got fired without anyone providing proof of that then I found out that the manager said I no called no showed and that's why I was fired. I was accused also of helping give out free food when that wasn't even on my shift. Don't ever work here it's the worst. Never had such an awful work place environment. Also my co worker that was in high school and didn't like tried to hit me with pans several times and don't expect people to actually try and do their jobs at subway.
Store Manager
Houston, TX - September 24, 2021
Pay rate needs to improve
Worked for more than 15 years and I've seen so many great employees and manager leave. It's sad that this company asks for more but never gives more. I've have learned alot about being responsible and handle many hard situations.
---
Pros and Cons
No raise and no paid vacation or sick days
Sandwich Artist
September 30, 2021