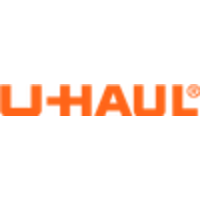 U-Haul
Never miss new job openings
Team
Professional experience
Years of experience
How many years of experience do U-Haul employees have before joining?
Where they've worked
Where did U-Haul employees work before joining?
Industry background
What industries did U-Haul employees work in previously?
Past employers' size
Which size companies did people at U-Haul work at previously?
Educational background
Educational background
What did employees at U-Haul study?
Top educational institutions
Where did employees at U-Haul study?
Arizona Automotive Institute
Wayne County Community College District
Never miss new job openings
Employee data
Time employed
How long do employees stay at U-Haul?
Age diversity
How does U-Haul rank for age diversity?
Gender diversity
How does U-Haul rank for gender diversity?
| | Gender diversity | Ratio |
| --- | --- | --- |
| | male | 62.6% |
| | female | 37.4% |
Top roles
What are the top roles at U-Haul?
Career advancement
Career advancement
How does U-Haul rank for career advancement?
| Years in position | Percentage who advanced |
| --- | --- |
| 1 | 50% |
| 4+ | 50% |
Future employers
What companies do U-Haul employees go on to work at?
Never miss new job openings
How Do I Match This Company?
Are you and
U-Haul
a perfect pairing? Let's explore your common touchpoints.
Summary
Company information
History
U-Haul is a public retail company that was founded in 1945 and is headquartered in Phoenix, AZ. The company's specialties include Moving Help, Uhaulcarshare, Corporate Accounts, Self-Storage, Retail Storage, U-Box Portable StorageSee more
Address
Multiple locations
Industry
Warehousing and Storage Companies
Website
https://uhaul.com
Departments
What departments U-Haul employees work at?
| | Departments | Ratio |
| --- | --- | --- |
| | other occupation | 70.6% |
| | Customer Service | 29.4% |
Similar companies
See what companies are similar to U-Haul
Never miss new job openings
How Do I Match This Company?
Are you and
U-Haul
a perfect pairing? Let's explore your common touchpoints.
Jobs
Never miss new job openings
How Do I Match This Company?
Are you and
U-Haul
a perfect pairing? Let's explore your common touchpoints.
Q&A about U-Haul
Want to know more about

U-Haul

?
Learn what others have to say about U-Haul or join the discussion by contributing a question or an answer.
q:
What industry does U-Haul belong to?
Transportation/Logistics.
q:
What's the stock symbol of U-Haul?
q:
Where's U-Haul's HQ located?
q:
What's the gender distribution at U-Haul?
37.4% female, 62.6% male.
q:
What year was U-Haul founded?
q:
What's U-Haul's yearly revenue?
q:
What's the name of U-Haul's CEO?
q:
What's the average length of tenure at U-Haul?
q:
What size of companies did U-Haul employees used to work for?
Most worked for large businesses before.
q:
How often do employees get promoted at U-Haul ?
advancement opportunities are very low
q:
Top future employers of U-Haul employees?
American Airlines, American Express, Bank of America, CubeSmart, SYKES, Target, U-Haul International, Inc, Walmart.
q:
Where did employees work before joining U-Haul?
Academy of Financial Literacy , Inc., Amazon, Ambassador Enterprises LLC, AT&T, Public Storage, Uhaul, U-Haul International, Inc, United States Air Force.
q:
What's the average age at U-Haul?
q:
What were U-Haul's employees' top fields of study?
q:
how are the working hours at U-Haul?
q:
how long does it take for the background check to be done?
q:
did you work at a big company before U-Haul?
q:
Can someone tell me about the vacation policy at U-Haul?
q:
Hello! I'd like to know what a job interview is like?
q:
can I wear shorts in the summer?
q:
Which school(s) did you study at before starting at U-Haul?
q:
Minimum age of hiring at U-Haul?
q:
Are career advancement opportunities guaranteed?
q:
Did you get a raise after your 3-month probationary period at U-Haul?
Never miss new job openings
How Do I Match This Company?
Are you and
U-Haul
a perfect pairing? Let's explore your common touchpoints.
Reviews
Have some insight of

U-Haul

?
Get the scoop on what others who have experience with U-Haul think of working there or join the conversation by leaving a review.
General Manager
May 30, 2021
It can be a great career if there wasn't so much corruption in the company.
I got advanced into the General Manager position which at first I was unsure if it was something I wanted to do because I heard both pro's and cons. With the position it's all about the team you build and as long as you have a good team under you the store will be successful. The MCP's don't appreciate how much you dedicate yourself to the company all they care is that you bonus so that they bonus. They will also stab you in the back quicker than you can imagine when you haven't done anything wrong so watch out.
---
Pros and Cons
Possibility of advancement, get to meet some wonderful people.
The corporate part of it all and favoritism that gets played.
Receptionist
Seaford, DE - June 22, 2021
Was a very cold environment in winter.
Not enough hours and too cold of an environment. But a very friendly environment to work in. Boss was very friendly and courteous towards me. Also, paid a very good salary to me.
---
Pros and Cons
Too cold.and not enough business in winter months.
Assistant Store Manager
Pensacola, FL - July 16, 2021
Fast paced environment with heavy lifting
Uhaul is a good place to work if you are ft but would still need a second job to be able to sustain
---
Pros and Cons
Friendly staff, benefits for ft employees, discounts on various services and products
Work life balance could use improvement systems go down often pay and work load dont match
Customer Service Representative
Las Vegas, NV - August 2, 2021
Enjoyed the time that I had at this company. Unfortunately the general manager stepped down and they filled the position with an inadequate unpredictable individual who took it upon himself to destroy the entire experience of working with this company. If only the corporate individual's understood what was going on at this location they would fire him immediately.
---
Pros and Cons
Excellent co-workers that had been there for awhile.
No training , hiring of family and friends.
Customer Service Assistant
Albany, NY - August 30, 2021
Loved working with my associates. Very clean and respectful of customers. Also worked as the storage manager.
---
Pros and Cons
Benefits the company provided.
Sales Account Executive
Houston, TX - January 24, 2022
Productive place to work.
Received virtual training and certificates before working. It was a good job renting out trucks and trailers.
---
Pros and Cons
Good video training and certificates upon completion.
Customer Serviced
Syracuse, NY - February 3, 2022
I worked their part time and I loved it but needed something full time, If I could have worked their full time I would have stayed
FMT/CSS
Corpus Christi, TX - December 6, 2022
A workplace that will use your valued skills and find ways to not pay you.
Got hired at u haul as an FMT (Facility Maintenance Technician) started at 14 dollars an hour and my skills as an IT professional got me the job as well as a promise of getting an IT position after a few months if I could fix many of the current issues no one in the south Texas region could figure out. A CSS (Computer support specialist), which is a high salary position which I learned quickly because of my IT background. I learned every system they used and could troubleshoot all components of their self storage facilities, computer systems, camera systems, security systems and was on paper an FMT but doing CSS work for a year fixed site crippling issues daily also upgraded all sites to Cisco meraki systems, I was told a new CSS position would be created for me as I had proved I was more than capable. I got used and then when I thought I was getting promoted I was fired with no reasoning during covid lockdown later found they just didn't want to pay me salary.
Never miss new job openings
Disclaimer
LENSA generates certain information provided on this website by compiling and analyzing publicly available data and data from employees/former employees. All company names are the registered trademarks of their original owners. The use of any trade name or trademark does not imply any association with the third-party company. None of the information provided is endorsed in any way by any of the companies mentioned. We do not guarantee the accuracy, currency, or suitability of this information (including regarding demographics or salary estimate) and you are responsible for how you use it. ALL INFORMATION IS PROVIDED "AS IS" AND "WITH ALL FAULTS". We are not responsible for nor endorse third party content on our website. If you notice any inaccurate information or information you think is proprietary you can email us at support@lensa.com. See our Terms and Conditions and Community Guidelines for more information.